Although no longer complete, and with all the city gates removed by 1819, the city wall is still an interesting and prominent feature of Exeter.
Circling the city for one and a third miles, the wall was an important feature from Roman to medieval times. The early, Roman parts are best viewed from Eastgate, along the side of Southernhay. The mix of purple to grey volcanic stone from around Rougemont and the rich, red Heavitree sandstone are very striking.
The Royalist defenders of Exeter in the Civil War of the 1640's led to the defences of the wall being strengthened. The ditch on the outside of the wall was deepened during 1642 and widened and a further line of defence outside of that added. Gun batteries were added at the gates. In Southernhay, house bricks have been used to repair the wall, where the defenders had made holes in it for guns and near South Gate, there are traces of crenellation from the same period. After the Civil War city walls became ineffective against more modern artillery and tactics.
A gap in the wall by the Cathedral is spanned by the delicate, cast iron, Burnet Patch Bridge. It was erected around about 1814 so that the Mayor, could regularly inspect the wall without interruption.
The wall at the Eastgate end of Southernhay dates from the 13th century.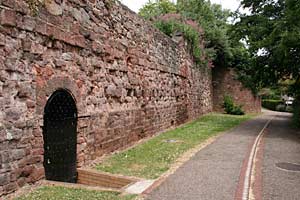 The City Wall in Southernhay.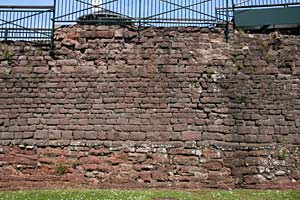 Roman stonework on top of later mediaeval repairs due to ground subsidence.