An unattractive, modern 'American' style mall of 32 shops, that is also a carpark. It forms one side of the canyon that is the sad fate of Paul Street. Designed by Bruges Tozer of Bristol at a total cost of £6 million in 1987, it attempts to link itself to the Guildhall Centre with a pedestrian bridge over Paul Street. The lower level of retail units has never been satisfactory, with a variety of businesses, including fast food outlets, art galleries and supplies, fashion, antiques and now furniture, all in an open fronted market style space. It always seems dull and empty, probably because it never seems to lead anywhere.
The corner of Queen Street (1 Harlequin Centre) houses Chandni Chowk, an ethnic furniture and interior design shop. Previously on the corner site was the Official Information Bureau, a single storey building with mock timber work and cream panelling, which was demolished in 1980. The bureau was taken over by the Council in 1974, having previously been sponsored by local business, who formed a committee to direct its work. The Paul Street Bus Station was created in 1929 after the area between Paul Street and the city wall was cleared in 1921 to 1925. Before that, a variety of houses and terraces occupied the area.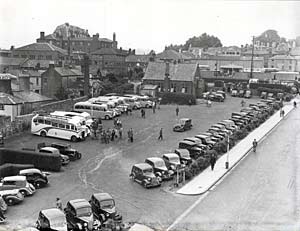 Paul Street car park before Harlequins was constructed. Photo courtesy Express and Echo.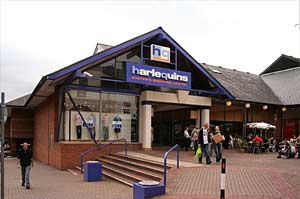 The Harlequins Shopping Centre