British Newspaper Archive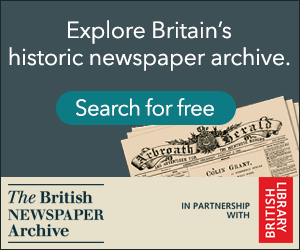 Many of the stories in Exeter Memories are sourced from the British Newspaper Archive. The archive has millions of pages from British local newspapers, covering from the 18th to the 20th Century. It is easy to search and then narrow down to an area, city and newspaper. Adverts, articles, pages with photos and more can be selected.
The archive is invaluable for anyone researching their family or local history and for finding thousands of interesting events. Find out of Auntie Maude was a murdere, or if your great great grandfather lost his house in a fire. Full access to the archive can be purchased on a monthly and annual subscription. Use the following link to try the archive for yourself. British Newspaper Archive
Historic Buildings of Exeter by David Cornforth
for your iPad & Computer
This iPad formatted book is liberally illustrated with many stunning full screen photographs, that take advantage of the iPad's retina display. The eBook works on the iPad and New iPad Mini - you can walk around the city with your iPad and see the buildings discussed in the book. Fully interactive, with many pop up photos and maps, the book has an extensive glossary that can be accessed from the word on the page. To purchase Historic Buildings of Exeter for only £2.49 click for a direct link to the iTunes Store.
Click on the link ABOVE for the iPad version at £2.49.

Also available as a PDF file for all Window and Linux computers. Please note that the interactive features on the iBook are not available in this version.
Use this link for the PDF version ONLY at £2.49.
New - Exeter Pubs by David Cornforth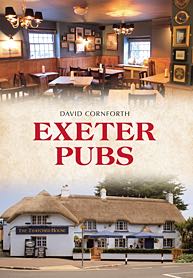 Over the past few centuries, nearly 500 pubs have opened their doors in Exeter. While many have been lost due to time, money or misfortune, the stories and memories created in these 'locals' live on. Exeter Pubs offers a captivating glimpse into the history of some of Exeter's most famous pubs. Drawing upon an eclectic collection of photographs, David Cornforth presents the reader with an insight into the history and life of the pubs in this area. From monkeys to landlords, famous visitors to suspicious fires, this book tells the stories of Exeter's numerous watering holes. Just like countless travellers over the centuries, the modern reader is encouraged to stop for a pint in each and continue the stories of these historic establishments. Well-researched and beautifully illustrated, Exeter Pubs provides something for everyone, whether they have lived in Exeter all their lives, or whether they are just visiting this vibrant town. Pubished by Amberley.
From Amazon – Exeter Pubs (Amberley Pub)
New - Exeter Dissenters Graveyard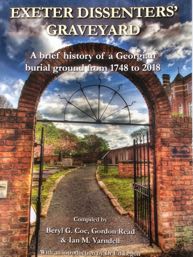 This Booklet, published in June 2018, by the Exeter Dissenters Graveyard Trust contains a brief history of dissent in Exeter, information about some of the people buried in the graveyard and their families. It also covers the graveyard's physical aspects and the restorative work undertaken by the trustees and many volunteers.  There are numerous coloured photos and a loose plan of the graveyard showing the first named person on arch memorial where this has been possible.  Available from the Exeter Dissenters Graveyard Trust www.edgt.org.uk

New

Exeter in the Great War by Derek Tait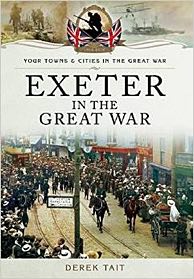 Exeter played a vital role during the First World War supplying men for the Army and raising funds to help troops overseas. The Mayoress and her team played a key part collecting money to aid homeless Belgian refugees in the city while also supporting other worthy causes both home and overseas. Soldiers travelling through Exeter all received food, refreshments and cigarettes due to the money raised. The city had its own battalion, 'Exeter's Own' and thousands of servicemen passed through the city on their way to northern Europe. Players at Exeter City football club were amongst the first to join the Colours and later the Footballers' Battalion (the 17th Battalion Middlesex Regiment). The effect of the war on Exeter was great. By the end of the conflict, there wasn't a family in Exeter who hadn't lost a son, father, nephew, uncle or brother. There were tremendous celebrations in the streets as the end of the war was announced but the effects of the conflict lasted for years to come.
From Amazon – Exeter in the Great War (Your Towns and Cities in the Great War)
Exeter Through Time by Darren Marsh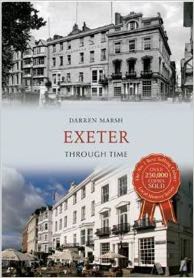 The county town of Devonshire, and at times ranked behind only London and Winchester in terms of national importance, Exeter has more than 2,000 years of history to explore. From the Romans to the Met Office, via the Civil War and the Baedeker raid of 1942, this compelling story is brought to life here with a fascinating combination of archive material, new colour photographs and informative captions. Proud of its ancient Guildhall, its medieval cathedral, its elegant Georgian terraces and its assertive Victorian museum, the city sits comfortably in the surrounding Devon countryside, while the River Exe, once vital to the cloth trade that formed the basis of the city's wealth in the Middle Ages, now provides all manner of outdoor activities. Such a city can tell tales of a vindictive countess, fabulously wealthy bankers, an outbreak of cholera, a moving house...
From Amazon – Exeter Through Time
Great War Britain Exeter: Remembering 1914-18
by David Parker (Author), Devon & Exeter Institution (Contributor)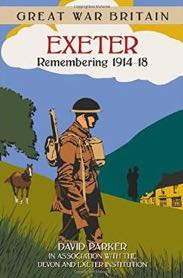 The First World War claimed over 995,000 British lives, and its legacy continues to be remembered today. Great War Britain: Exeter offers an intimate portrayal of the city and its people living in the shadow of the 'war to end all wars'. A beautifully illustrated and highly accessible volume, it describes local reaction to the outbreak of war; charts the experience of individuals who enlisted; the changing face of industry; the work of the many hospitals in the area; the effect of the conflict on local children; the women who defied convention to play a vital role on the home front; and concludes with a chapter dedicated to how the city and its people coped with the transition to life in peacetime once more. The Great War story of Exeter is told through the voices of those who were there and is vividly illustrated, including many evocative images from the archives of the Devon and Exeter Institution.
From Amazon – Great War Britain Exeter: Remembering 1914-18
2000 Years in Exeter - W G Hoskins/Harvey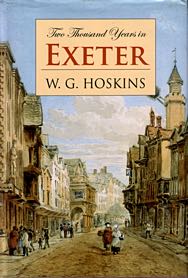 Exeter is one of the oldest cities in Britain. It was an inhabited place some two hundred years before the Romans came, and people have lived here without a break for more than two thousand years. The High Street has been in continuous use as a thoroughfare throughout that long period. For centuries Exeter was one of the largest and wealthiest cities in the kingdom and has always been the Mother-City of the South West. In this book, first published in 1960 and acclaimed as a 'small masterpiece', the author traces the essential historic development and character of a leading provincial centre. He describes its adventure from a small Celtic village to a modern city, with particular reference to its social history, to the lives and surroundings of ordinary people, to the buildings and landscapes of the past. Above all, he is concerned with the recent past and devotes three long chapters to the 19th and 20th centuries. W.G. Hoskins died in 1992. The task of bringing the work up to date and preparing text and illustrations for this new edition of a classic work has been undertaken by Hazel Harvey, a distinguished local historian of Exeter. Much of Exeter has been destroyed, but much of the historic past of this entrancing city still remains. Hoskins' incomparable text is supported by a new selection of illustrations and maps, with an appendix on the street-names of the city and place-names in the neighbourhood. This book will be as valuable to the visitor as to the citizen of Exeter, for it tells where to look for the memorials of the past and for the history that lies behind them.
From Amazon – 2000 Years in Exeter