Join the Exeter Memories
Group Page
Cartoons and Caricatures
Page added 6th May 2011
Back to  Photos
Also see
Stil - the blitz
Stil - GIs in Exeter
Stil - biography
All these cartoons are copyright the family of George and Harry Stilling and have been reproduced with permission. Please contact me if you want to use one in a publication or website.
Any Gum Chum - 1944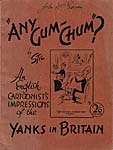 Any Gum Chum cover - 1944
I first discovered the work of Stil (George) when retired US Navy serviceman, John Moon, sent me a copy of Any Gum Chum that he had purchased, while stationed at the Topsham US Naval Depot in 1944. The cartoons took a humorous and often accurate look at the relationship between the many US servicemen stationed in Exeter and the local population. The US GI's were a splash of excitement for the British civilian, sometimes causing resentment because of their superior pay, but often forming warm and lasting relationships with the war torn population. Many British girls became GI brides, moving to the US after the war.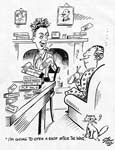 US servicemen's gifts
With higher pay than the average British Tommy, and access to scarce cigarettes, chocolate, gum and nylons, the generosity of the GI's was welcomed by many. Stil plays on this generosity with this cartoon.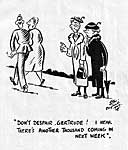 Not enough to go around
Thousands of generous, if not home sick GI's, in the country was welcomed by many women. A large proportion of British males were in camps training away from home, or abroad. Stil plays on a possible shortage of eligible US males.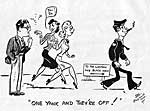 The oldest GI joke in the book!
This cartoon by Stil relates a well worn joke about the GIs and British women, in a fairly innocuous way. Many folk tended to think about the double entendre when they heard this. A nice local touch is the sign to the Black Horse in Longbrook Street.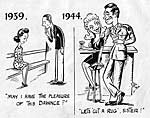 Changing times
A joke that plays on the changes in British culture brought on by the influx of GIs to the nation.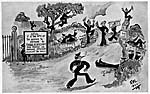 Keep off the grass
This cartoon must have been drawn as a result of just such activity in Northernhay.
How to make love!
A cartoon that plays on the expectations of the Yank and and the reserved British girls.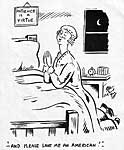 Praying for love!
A frustrated British woman prays for love.
Exeter Fun - 1948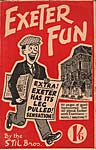 Exeter Fun cover - 1948
This book published by Stil Studios is a mix of adverts, cartoons, caricatures and jokes. Stil advertising was run by Geroge Stillings and his brother Harry. The cartoons from this point are signed Stil for George and Harry Stil.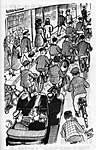 Alphington Street
"Why is it I always seem to be coming along Alphington Street when Willeys chuck out?" - Harry Stil.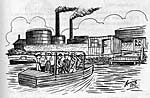 Quay ferry
"I've been making this trip to and from the Gas Works nearly five years now–and I haven't been sea-sick once!" - Harry Stil.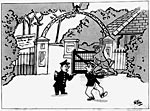 This is Your City
"I don't care if you did read in the Echo that 'This is YOUR City' – put that *!!* ! statue back!". - Stil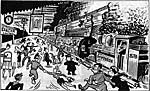 Last Train to Exmouth
I think the Avocet line is just as popular today - Stil.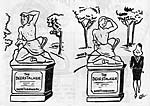 The Deerstalker
Even statues have feelings! - Stil.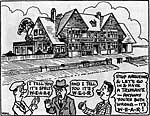 The Countess Wear Hotel
How to spell Wear! - Harry Stil.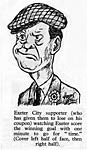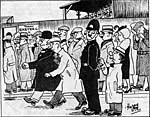 Exeter City FC
Left - "Pardon me, Officer–but can you direct me to St James' Park?". Right - follow the instructions in the cartoon. Both Harry Stil.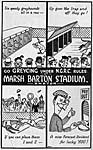 Advert for Greyhound Racing
By Harry Stil.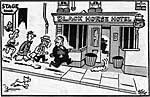 The Black Horse
"Just time for a quick one before the show starts!" (The Black Horse Hotel in Longbrook Street is noted for its theatrical associations) - Stil.
Postcards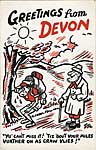 Greetings from Devon
All of the following postcards were produced in the 1950s and 60s for the tourist trade. Stil uses Devon dialect and the county's fame for strong cider to poke fun at both the locals and the visitor alike. By Stil.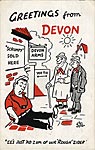 Greetings from Devon
The strange effect of zider. By Stil.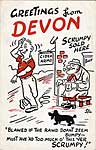 Greetings from Devon
Scrumpy causes a bumpy road. By Stil.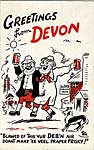 Greetings from Devon
Locals enjoy a drink in the good Devon air. By Stil.

With thanks to Georgia Shorrock for permission to reproduce the work of George and Harry Stillings. © 2011 Georgia Shorrock
│ Top of Page │