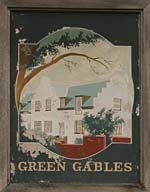 Dating from 1934, this pub has an interesting facade, with a strange blend of Dutch and William Morris style making the central section and end walls very prominent. The roof is covered with green ceramic tiles, thus the name. It was designed by R M Challice and Son, who also designed the old Kastner's Garage in Magdalen Road. Commissioned by the City Brewery to serve the Broad Meadow Estate, which was built in 1923. It opened with the name, Kings Arms.
1936/39 - Green Gables PH, George Ernest Castle - Kelly's
1956 - Green Gables, Reginald G Wyatt - Kelly's
During the 1950's, the pub was noted for the quality of its men's and women's darts teams and they became local league champions. Green Gables closed down twice between 1982 and 1984, with the second closure causing the landlord and his family to lose a lot of money and go into council accommodation.