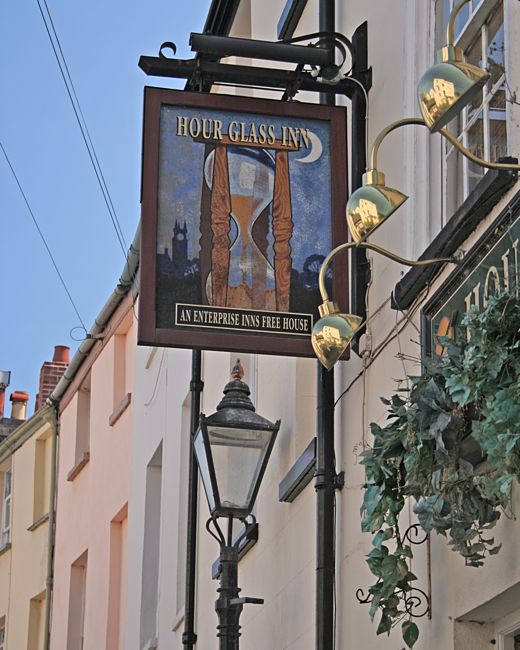 One of a diminishing number of local city pubs to survive in Exeter, the Hour Glass Inn is notable for its shape.  The earliest mention in the Flying Post I have found is September 1848 when J Stuckes the landlord announced an annual dinner for the recent extensive "alterations and improvements, and he flatter himself that the accommodation which his house now affords is not to be equalled by any similar establishment in the city." The improvements included an indoor skittle alley.
The house was for sale, freehold, in March 1849. Stuckes was the owner living in the adjacent property. Included in the sale was seven bedrooms, a brew-house and wash-house cellars. By 1851 a sale was ordered by the mortgagees. It was in the occupation of Mr John Parsons Jnr and included the house adjoining in the occupation of Mr John Barker along with several unfinished tenements that were to the rear of the inn.
The license was transferred from the Hour Glass to the London Ale House in July 1861 and the house appears to have temporarily shut. By 1865 it was open again as a meeting of the Friends of Labour Loan Society was held at William Dymond's Hour Glass Inn with a view to starting a branch at the house. William Dymond died in February 1869 at the age of 39 after a long illness, although the house appears to have been run by John Henry Parsons who was declared bankrupt for a mortgage to a value of £540.

By April 1870 it was for sale by auction with Mrs Dymond in occupation. In September 1871, Mrs Dymond was prosecuted for allowing card-playing and gambling on premises. The Exeter Rational Sick and Burial Society had their supper at the house in 1873.
Some landlords of the Hour Glass Inn listed in the trade directories are:
1850 - John Henry Parsons, Hour Glass Arms - White's
1878 - Hour Glass, Mrs Sophia Dymond, 21 Melbourne st, Exeter - White's
1889 - Hour Glass inn, Thomas Rowe, 21 Melbourne street, Exeter - Kelly's
1906 - Hour Glass, Miller, W.H., 21 Melbourne st - Besley's
1913 - Hour Glass, Miller, W.H., 21 Melbourne st - Besley's
1914 - Hour Glass, Miller, W.H., 21 Melbourne st - Besley's
1923 - Hour Glass Inn, Alfred Dorothy, 21 Melbourne st. Exeter - Kelly's
1956 - Hour Glass Inn, Rt. Houghton (fully licensed, snacks), 20 & 21 Melbourne st. Tel 58722 - Kelly's
1967 - Hour Glass Inn, 20/21 Melbourne st - Kelly's
2006 - Hour Glass Inn, Mr A Gardiner (Licensee)