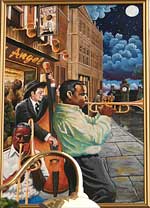 There is evidence to suggest that the building of the popular bar, The Angel in Queen Street dates from the 1840s. It was in 1869 that the Victoria Hall was built on the adjacent site, and to the rear of the future hotel, although I have not discovered what use the building was put to until 1877.

In April 1877, William Norton placed an advert in the Flying Post informing the public that he was expanding his existing business and opening the Victoria Restaurant, at 32 Queen Street. Norton was a cook and confectioner – the term 'restaurant' as a place to eat was first used in Exeter in 1844, when Jarman's 'cafe et restaurant' opened in the High Street. Norton offered cold joints, tongues, seasoned pies along with wine and Guinness, breakfasts, luncheons, dinners and teas. The close proximity to the Victoria Hall was a bonus, and the restaurant obviously prospered.

The premises were also used, as was common in the 19th Century, for auctions, and in April 1881, a sale was held, at the Victoria Restaurant, of property in St Sidwell's and St Mary Major. The next August, the business had become the Victoria Restaurant and Hotel for 'excursionists and tourists and strangers visiting Exeter'. William Norton died, and his widow Ann continued to run the business with the 1897 Kellys listing her as the proprietor. In July 1898, Ann Norton died. Then the directories give the following:
1902 - Mrs Bunnings Restaurant
1906 - Victoria Hotel and Restaurant - Augustine James Tower
1912 - Victoria Hotel and Restaurant - Mrs Phyllis Parker
1923 - Victoria Hotel run - Mrs H Simmons
1939 - Victoria Hotel - John Alex McLean
1967 - Victoria Hotel - Ernest Frank Hall
1972 - Victoria - no licensee named
The Victoria was owned by Brutton Mitchell & Toms, a Yeovil brewery that existed between 1937 and 1960, when it was taken over by Charringtons and the name ceased to be used. Situated directly opposite Central Station, travellers from further up the line, who were familiar with Bruttons beers, could cure their thirst with products they knew, while waiting for trains or recovering from journeys. It was the only pub in Exeter owned by Brutton Mitchell and Toms. The practice of foreign breweries setting up in seaside resorts and near railway stations so as to capture their usual clientel when travelling was common.

During the 1980's, as the New Victoria, it ran a popular weekly disco. Now, The Angel is considered to be an elegant, comfortable venue with good music that is popular with students.
Source: Flying Post, Peter Hinchliffe