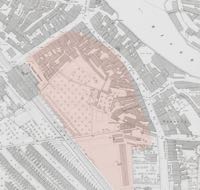 Formerly the Plaza Centre, this leisure centre is difficult to miss, as the large curved glass wall surrounding the pool appears as you leave Exeter towards Alphington. The site, next to the railway viaduct that crosses St Thomas, had been semi derelict for several years. Before that, part of the site was occupied by P Pike & Co Ltd, Austin dealers - during the war, their workshops were used to repair Spitfires.
The leisure centre was built by J Sainsbury's, as part of their new store complex, in St Thomas from 1984, at a cost of £8 million. Designed by Exeter architects, Marshman, Warren and Taylor, who were also the architects of the Shilhay housing estate, on the opposite bank of the river. The curved wall of the leisure centre is said to be the second largest of its type in Europe. The idea was borrowed from the Stuttgart Gallery designed by James Stirling. The original 35m pool had plastic palms, a water slide and a wave machine, which deterred the more serious swimmers, so it was refurbished into a more conventional 6 lane, 25m swimming arena, and a 13m learner pool.
The rest of the building which contains two squash courts, fitness suite, sports hall, a h100 station gym and a bar and cafe, is more utilitarian in style. The Leisure Centre, and associated Sainsbury's Store and St Thomas Library complex were opened by Diana, the Princess of Wales in 1986. The plaque, that the Princess unveiled on that day, has since mysteriously disappeared. When Sainsbury's opened their new store, at Alphington Cross in 1999, the St Thomas store was closed, demolished and rebuilt into a series of large retailers including PC World (now Next, 2005) and Boots in the main complex and Pizza Hut in a new facility at the front of the site.
Damaged by fire
On the 21 February 2017, at 4.16pm, the fire services were called to attend a fire at the centre. Within a short time, a major incident was called, with 120 firefighters in attendance. Alphington Street was closed in one direction, and the car park to the adjacent retail park closed. About 50 people were evacuated, 20 of whom were swimmers. Two people were injured, one with smoke inhalation, and one with minor burns.
The fire started in a sauna, filling the pool area with smoke. The firefighters brought the fire under control over night, and by morning, only one appliance was in attendance. Holes in the roof and other damage was reported, and it was thought that the centre would remain closed for several months.
Sources: Express and Echo, Twentieth Century Architecture by by Eduardo Hoyas-Saavedra, Leisure Centre website