Walk down Coombe Street and within a 100 metres you reach a pedestrian underpass that tunnels under Western Way, on the other side of which is an equally short street, now lined with 1960s style houses and flats. It wasn't always cut in two - once Coombe Street was an important arterial road as early motorists skirted the city to reach the Exe Bridge. From Roman times, Coombe Street was the natural way from the quay to the city.

The Minster in Cathedral Close was supplied by a spring that rose where the Normans would build their Cathedral; indeed, the Romans had used this water source for their own needs. The spring had, over the millenia, carved a small valley that flowed into the Exe close to the rear of the Custom House. You can see the valley just where Palace Gate and Coombe Street join South Street. It was a useful little valley, as it enabled the Romans to reach their quay along an easy gradient. The way was blocked after they built the city wall and it wasn't until the mid 16th Century when the Watergate was cut that goods from the quay were again carried up the street.
The first street
There was a street recorded here from as early as 1256. It became known as Rock or Roch Lane after the chapel of St Roch that was situated in the street. In the early 1400s, it was also known as Combrew, after a row of houses or tenements, that had replaced a chapel (it is not known if it was St Roch) in the lane. Superstition said that the inhabitants would not prosper due to the demolition of the chapel, and the tenements were eventually pulled down and replaced by a garden.

At the same time, Lord William Bonville, founded almshouses for 12 poor people and endowed them with the income from property to the annual value of £21 11s 4p. In his will of 18th April 1408, a further provision of 7 pence per week was made for their upkeep.

Two hundred and fifty odd years later, in 1674, Richard Lant remembered Bonvill's Almhouses by endowing the now decaying building with the income of £50, from the New-house, a tenement in Dorset. The area was also used for industry and in 1423 Robert Newton was running a bell foundry in Mermaid Yard, just to the west of Coombe Street. Bells from the foundry still ring from churches around Devon and Exeter, including St Pancras.

Rock Lane as a route from the Westgate to Southgate Street was unpleasantly evident when in 1619, a woman accused of low morals was ordered to be whipped at the cart's tail "as farr as Westgate, from thence upp thoroughe Rock lane, Southgate street and upp to the Guildhall." No doubt the locals would have hung out of their windows and stood on the corners to watch the spectacle.
Nineteenth Century Coombe Street
A map of 1805 shows the street still named Rocks Lane, but by 1835 the Schmollinger map has it named Coombe Street. The 18th Century saw the whole of the West Quarter slip from a favoured place for merchants to live and trade, to a place for a growing, often deprived, working population. Tanneries, foundries, soap and candle makers, sawmills, coal yards and warehouses were developed in Shilhay in the 19th Century. Coombe Street saw tenements and houses built along the street and off little alleys on each side - any spare piece of land would be filled with a terrace or tenement to provide a landlord with income. It has been described as Dickensian, with low pay and unemployment creating poverty, overcrowding and deprivation. 
Coombe Street, at the heart of the Westquarter, was badly affected by the cholera outbreak in 1832, when 23 died of the disease in the street . Many would have consumed infected water, dipped from the leat, just behind the Custom House. Besides building a new water works at Pynes after the outbreak, the City Council was prompted to provide some basic facilities for the population of the West Quarter, and a public bath house was built, between Coombe Street and Rack Lane. 
The Central School was opened in 1858, supported by the Dean and Chapter, with a rear entrance provided from Coombe Street. After the raid of 4 May 1942, the school was requisitioned as a mortuary, and the children temporarily housed at Holloway Street School when all schools reopened after the raid, on 13 May. Central School was reoccupied on the 21 May. The school remained until 1976 when the children, of what was a Middle School by then, moved into a new building, adjacent to the St Leonards Infants School.

From 1881, the Mission Hall in lower Coombe Street was used by the Salvation Army to provide farthing breakfasts for poor children, before they went to school. They would be provided with a mug of cocoa and a bread roll or bun covered with margarine and jam. The service was still provided in the 1930s, when the slums of the West Quarter were being cleared, and the population moved out to Burnthouse Lane. Olive Nibbs remembers visiting in Coombe Street, as a child, a mother dying of TB and her two children in the 1920s, to take the children to Sunday School, while their mother rested. A small coal fire was tended by her small son, the only heat in the damp tenement. There was a morgue situated at the bottom end of Coombe Street, which was no doubt, well used.

One of the victims of the Exeter Theatre Royal fire in 1887 was 28 year old Joseph Millman, a fish hawker and married man with children, who lived at 52 Coombe Street.

Some of the inns and taverns to be found in Coombe Street, at different times, include the Duke of York, King's Arms, White Hart tap, Carpenters' Arms, Exmouth Arms, Fuller's Arms, Lord Nelson, Plymouth Arms, Royal George Tavern, and Totnes Arms.
World War One Dead - Coombe Street
Private, W Harris, Wiltshire Regiment. 6 August 1918. Brownings Court. Coombe St
Private, Bertie Hooper, Canadian Infantry 4 September 1916. Age 21. Coombe St
Private, Frederick Pickard, Devonshire Regiment. 28 September 1918. Age 22. Nephew of Thomas Trump, of York Place, Coombe St
Private, Walter Gregory, Queen's Own Royal West Kent Regiment, 7 February 1918. Age 25. Coombe Street
Private, E Morton, Royal Army Ordnance Corps. 23 April 1919. New Flats, Coombe St
Officer's Steward 3rd Class, William Ernest Elson, H.M.S. "Recruit.", Royal Navy. 9 August 1917. Age 21. Chudley's Court, Coombe St
A street chopped in two
It wasn't until the 1950s that grand schemes for rebuilding the bomb damaged city really started to take effect. After central Exeter was well on the way to being completed, the planners turned their attention to the road system around the city, and the rundown Shilhay. Western Way cut Coombe Street in two and the southern end demolished and new houses built. Concorde House was constructed in the 1960s on South Street with one side bounding the top of Coombe Street. Gayton's Garage, situated opposite James Street, had a healthy passing trade during the 1950's - it suddenly found no passing traffic and was rebuilt to face Western Way to provide the east bound traffic with its petrol before closing in 2004. The garage was demolished in 2009 and the much speculated 'secret' tunnel was exposed at the rear, into the rock side. The tunnels were used as a bonded store during the 19th Century and during the blitz, they were a bomb shelter.

Now, only the buildings at the top of the street opposite Concorde House remain from the many hundreds that clustered along the little thoroughfare in the 19th Century.

Some Coombe Street traders from 1897.
Coombe street, South street to The Quay.
SOUTH SIDE
White Hart Tap P.H.
Edward Wethey, manager
Berry Bros, wool warehouse
Southwood R. & Co. bonded stores
Westacott John, shoeing smith
..................here is James st
Phillips Samuel, hay dealer
17 Mugford William, shopkpr
18 Atkins Thomas, fruiterer
19 Wool way Richd. oil dlr. &c
20 Tuckett Mrs. Elizh. shopkpr
21 Duke of York inn, John Walaron
..................here is York pi
Lloyd H. C. & Son, tobacco manufrs. (bonded stores)
Walaron John, fish salesman
TABERNACLE CHAPEL
.............here is The Quay

NORTH SIDE
28 Mortimer Thomas, boot maker
29 Hill Charles James S. baker here is Albert pl
31 Morris James, shopkeeper
32 Oatway Miss Louisa Alice, shopkeeper
King's Arms inn, William Henry Westcott
36 Lee James, sen. iron mer
..................here is Lees terrace
..................here is Victoria place
38 Westacott Mrs. Louisa, dairy
40 Sullock Thomas, shopkeeper
41 Preston John, shopkeeper
42 Atkins Richard, shopkeepr
43 Milman Richard, shopkpr
44 Mudge RichardJn. shopkpr
45 Harding Wm. Geo. grocer
Devon & Exeter Central School (James Gould Finn, master)
50 Marsh George, oil dealer
52 Stabback Hy. hair dresser
53 Rowe Hubert, bird dealer
Lawless Hy. bonded stores
60 to 63 Wreford R. W. & Son, curriers &c
Sources: Various trade directories, the Exeter Timetrail website, the Millman family website, Remarkable Antiquities of the City of Exeter by Izacke, History of the City of Exeter by Jenkins, Two Thousand Years in Exeter by Hoskins and Old Exeter by Peter Thomas, plus other articles on this site.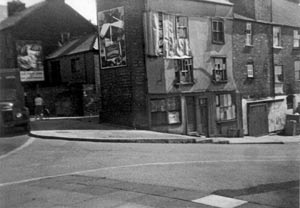 The bottom of Coombe Street with Quay Hill to the right in September 1962.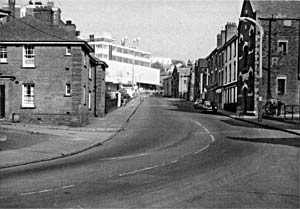 The top of Coombe Street circa 1960. Courtesy Dick Passmore.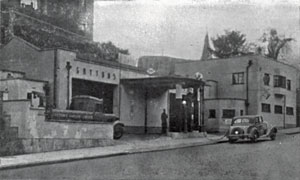 Gayton's Garage, Coombe Street before it was turned through 90 degrees to face Western Way.
Memories of Coombe Street
Some mornings I had to go to the fish market in Coombe Street with a wash bowl for a bob's worth of fish; whiting and cod all sorts. We had a good feed from the fish. The market then moved to the Quay.
Bird Fancier
Going up over Coombe Street on the left hand side was Atkins, a bird fancier where they used to sell canaries. Cocker Atkins used to put a chair in the doorway and watch the people walk by. A lot used to do that and watch the world go by.
Farthing breakfast
Opposite Atkins used to be a Mission Hall where they served the Farthing Breakfast. This consisted of a little round loaf cut in three slices, margarine on the bottom of one, then jam, then margarine. And you had a mug of cocoa. You could have as much cocoa as you wanted until the supplies ran out. All this cost you a farthing. You used to queue up; the bigger the boy the quicker you got in: survival of the fittest. It always sticks in my mind, we used to sing, "We thank you, O God."
The Farthing Breakfast started in Cricklepit Lane, then moved to Exe Island before it was here. There were railings around and you went down some steps into a hall. You could have as much cocoa as you wanted until the supplies ran out. I earned my breakfast money by fetching coal for people in a box barrow. If I was lucky I'd get enough cash to buy a farthing breakfast, to take to school to eat during the day. You'd always buy Woodbines rather than feed.
A ha'porth of pepper
I remember Daddy Pepper - he was not quite in Coombe Street. And he used to go for mam and buy a ha'porth of pepper, ha'porth of salt, pennyworth of tea, pennyworth of sugar. Dear old Daddy Pepper. I suppose he made a profit.
From People Talking
Names of traders 1822/23
Baker
George Aplin
Bricklayer & Mason
Joseph Payne
Cabinet Maker & Upholsterer
George Horrell
Carpenter & Joiner
Hugh Facey
Coal Merchant
Samuel Joslin
Cooper
R Newcombe
Fuller
William Dean
S Hayman
P Mugford
Grocer & Dealer In Sundries
John Lemon
Merchant
John Pidgley,
Tailor
Charles Alford
Tailor
John Hake
Tavern and Inn Keepers
J Manley, Duke Of York
C Callaway, Fuller's Arms
John Cook, Lord Nelson
Tiler & Plasterer
Richardson
Timber Merchant
James Woods
Toy & Rocking Horse Manufacturer
Mary Jesse
Wheelwright
John Parsons
Wine & Spirit Merchant
Crockett
Wool Factor & Dealer
James Rodier
Yarn & Serge Factor
John Curtis