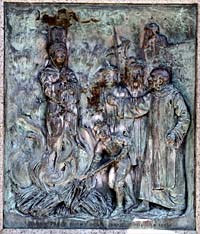 The protestant martyrs, Thomas Benet who died at the stake at Livery Dole and Agnes Prest who died at Southernhay are remembered on this monument on the corner of Barnfield Road and Denmark Road.

Thomas Benet came from Cambridge in 1524, having turned from the Catholic Church, believing they no longer worshipped God in the way Jesus commanded. Benet nailed a paper protesting against the supremacy of the Pope to the door of the Cathedral in October 1530. The Bishop was enraged as Benet eluded the authorities, until he was captured attending his own Excommunication service in the Cathedral. He was placed in irons and ordered to submit to the Pope, but he refused. On January 10th 1531 he was taken to Livery Dole and burnt at the stake at a place that is now the garden of the almshouse, in front of St Clare's Chapel. A local, John Barnehouse thrust a flaming faggot in his face and shouted "Here, heretic, pray to Our Lady or I'll make you do it!". Benet uttered "Father, receive my spirit!" and expired in the blaze.
Agnes Prest, a Cornish woman refused to accept the 'doctrine of transubstantiation' which her husband and children, all strong Papists believed. Her husband and neighbours took her to the local priest and she was imprisoned in Launceston, before being transferred to Exeter. She was charged with the crime of "Heresy chiefly against the Sacrament of the Altar and for speaking against Idols" and ordered to give up her beliefs. She could not accept that a piece of bread was the body God and thought the practice blasphemous. She refused to recant and on 15th August 1557 she was taken to Southernhay and burnt at the stake.
The monument was designed by Harry Hems, of Longbrook Street and erected in 1909 as the result of a public subscription.

Two bronze panels on the sides of the obelisk show Benet banging on the door of the Cathedral and Prest at the stake in Southernhay.

Another two plaques on the monument states:
"IN GRATEFUL REMEMBRANCE
OF THOMAS BENET, M.A. WHO SUFFERED
AT LIVERY DOLE, A.D. 1531, FOR DENYING
THE SUPREMACY OF THE POPE, AND OF
AGNES PREST WHO SUFFERED ON SOUTHERNHAY
A.D. 1557, FOR REFUSING TO ACCEPT THE
DOCTRINE OF TRANSUBSTANTIATION.
'FAITHFUL UNTO DEATH.' "
"To the Glory of God
& Honour of His Faithful Witnesses
Who Near This Spot, Yielded Their Bodies
To be Burned for Love to Christ and
In Vindication of the Principles of the
Protestant Reformation This Monument
Was Erected by Public Subscription
A.D.1909.
They Being Dead Yet Speak."