Tip – use Search or Site Map
Join the Exeter Memories
Group Page
Contact EMail
Free Download plus Buy Books and Downloads
New - Exeter Pubs by David Cornforth. Also explore the British Newspaper Archive for free. Help fund Exeter Memories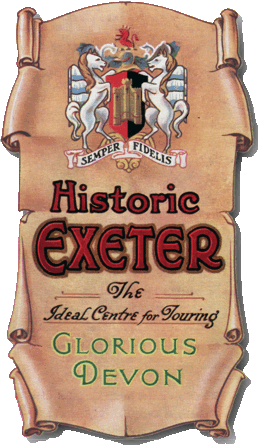 This graphic appeared on the rear of the official Exeter City Council guidebooks for about 15 years, from the 1920s to 1942.
This site currently contains 1,000 pages and more than 8,200 images.
Historic photos
Before the famous Tinleys Tea Shop at Broadgate, there was Murch Goff and Co. Of course, most will know it as Pizza Express. See Tinleys.
A hansom cab in Bedford Circus. Courtesy of Caroline Dennison.
One hundred years ago – February 1918
See more 1913, 1914, 1915, 1916, 1917, 1918
EXETER HIPPODROME.
Miss Queenie Leighton, the ideal principal boy and Drury Lane pantomime favourite, heads an attractive programme at the Exeter Hippodrome next week. Other noteworthy turns are Frank Williams, the tenor comedian and male soprano, and Sydney Parker, the Welsh vaudeville entertainers; the famous Enardo Bros., Italian comedy gymnasts in mid-air; the two Devons, "those merry musical maids"; and Stella and Harry Jocelyn in variety and vogue, direct from the London Coliseum
Exeter and Plymouth Gazette - Saturday 02 February 1918
Exeter Drover Fined to Not Carrying a Lamp
An Exeter drover, Albert Woodgates, was summoned at the City Police Court yesterday for driving a flock of sheep on Exe Bridge at 6.10 p.m., and not carrying a lamp. According to P.S. Elford, who gave evidence, defendant knew that he had to carry a light, and in fact had been supplied with a hurricane lamp by the owner of the sheep. This, however, he had not got with him and, instead, was carrying a small bicycle lamp with oil. Defendant's excuse was that his journey took him longer than he thought it would. The fine was 5s., the magistrates being Messrs. G. White, in the chair, F. J. Widgery, J. Munro, A. T. Loram, and H. Hall.
Western Times - Tuesday 05 February 1918
WHAT IS HOARDING?
Possession of More Than Three Weeks' Supplies
Important Decisions an Exeter Food Conference
A conference of local Food Control Committees in Exeter and district met at the Exeter Guildhall on Monday and decided: 1st.. That the time has come for the adoption of local schemes for the distribution of food. 2nd, That all schemes should be uniform. 3rd, That in order to assure uniformity the London scheme is the most convenient, and should be adopted in this area for margarine, butter and meat. 4th, That Committees in areas which depend upon each other for food supply should arrange for joint conferences at the earliest possible moment, in order that problems affecting their area may discussed.
Western Times - Friday 15 February 1918
Local news
We Lave received 120 farthings from "D. and J.," Exeter, for the Exeter Farthing Breakfast Fund. Mr. G..A. C. Drake (hon. treasurer) has received a cheque for £5 from president Sergeants' Mess Devon Depot Regt., and from a collection at Empire Theatre on Saturday, 16th inst., £2 2s 6d.
Sec-Lieut. Leslie Stagg, eldest son of the late Mr. F. and Mrs. Heavitree, has been gazetted to the Norfolk Regiment. Enlisting at the age 18, in the year 1915, he saw service in France until July, 1917, when he returned to England to undergo the special training to enable him to qualify for a commission.