New Pages
Earliest
Heavitree Brewery
St Anne's Well Brewery
St Thomas' Brewery
Well Park Brewery
Minor Breweries
Elephants in Exeter
The Woodbury Common Murder
History of Rediffusion in Exeter
Gallows Cross
Letter about the blitz
Aerial photos by Bertram Arden
School photos 1900-1970
Alphington Halt
Head Weir Bathing Place
The Sclater family nurseries
Latest 21st June 2015
Updated Pages
Glasshouse, Countess Wear
Canal shipping photos
1940s scrapbook
Smythen Street
Countess Wear
Valiant Soldier
Bishops of Exeter
HMS Exeter – crew list
May 1915 Exeter newspapers
Exeter Mayors
Clapperbrook Lane
1940s scrapbook
Bishop Blackall School
Sacred Heart Church
Tepid Baths
Pyramids Swimming Pool
Most recent 21st June 2015
Quick Links

Historic film, video and sound
Marrianne Faithful photographed in her dressing room at the ABC, Exeter, probably in February 1965 when she appeared with Roy Orbison and the Rockin' Berries.
The comedian Tony Hancock frequently performed in Exeter, both at the Theatre Royal and the Savoy/ABC. Here he poses for a photo with the manager of the ABC, Robert 'Bob' Parker, and a young woman. Circa 1962. Photo © the late Frank Mallett.
Loading

Forum and contact EMail
Buy Books and Downloads
New - Exeter Pubs by David Cornforth. Also explore the British Newspaper Archive for free. Help fund Exeter Memories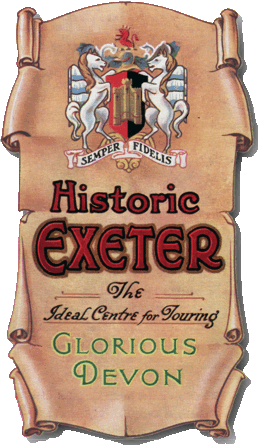 This graphic appeared on the rear of the official Exeter City Council guidebooks for about 15 years, from the 1920s to 1942.
This site currently contains 900 pages and more than 5,000 images.
Exeter Local History Society
Join the Exeter Local History Society and discover 2000 years of the history of Exeter. Learn of intrigue, plots, disasters, celebrations and the way of life of past generations of the city.
We meet six times a year in the city centre, for a chat, and a talk from an expert on a historical topic. There are also 'outside visits' with a guide to see aspects of the city's past.
Come along to a meeting without obligation - upcoming meetings can be found here
Contact E-Mail
Links to other sites
List of Sources Used
Site Map
Photos Wanted
Benefactors
Featured Photos
A group of Spitfire pilots at Exeter Airport, to remind us that this summer is the 75th Anniversary of the Battle of Britain. See Exeter Airport for its part in the war.
The Valiant Soldier on the corner of Magdalen Street and Holloway Street was built after the Civil War, replacing the Goat. It was closed in March 1962 and demolished later in the same year. See Valiant Soldier.
Exeter one hundred years ago this JULY
This Month in Exeter - 1915 also see 1913 and 1914
23,000 CIGARETTES.
What Exeter Has Sent to the Dardanelles
It will be remembered that only quite recently the Mayoress of Exeter appealed for money to enable her, through the Depot, to send tobacco to the troops in the Dardanelles. Subscribers will be interested to learn that already 71lbs. of tobacco and 23,000 cigarettes have been sent out from the Exeter Depot to be divided between the English and Australian contingents. That is surely a good record for so short a time, and illustrates once more how many-sided is the work being carried out by tht Depot.
Western Times - Wednesday 14 July 1915
Cyclist Dashes Into a Motor-Car
William Paige, married, aged 43, of Barbican-place, Paul-street, Exeter, was on Sunday afternoon cycling down Kenton-hill, Kenton, when he dashed into a motor-car near the triangle. He sustained a fractured skull, and was conveyed to the Royal Devon and Exeter Hospital, where an operation was performed. Last evening Paige, who is a tailor, was going on well as could be expected.
Western Times - Tuesday 20 July 1915
Sleeping Tramp
Yesterday, at Exeter, Thomas Bartlett, tramp, no fixed address, was summoned for wandering abroad and lodging in the open air in Hill's-court, Cowick-street, without having visible means of subsistence, or being able to give a good account of himself. Accused pleaded guilty. He was found asleep in the Court on Sunday. Bartlett was before the Bench on Saturday on a similar charge, when he promised to go to the Workhouse. Sentence of 14 days' imprisonment was passed.
Exeter and Plymouth Gazette - Tuesday 20 July 1915
Hare in Exeter Streets
A remarkable sight, or, at least, a very unusual one, was witnessed in the streets of Exeter yesterday, a hare being seen to dart out from a roadway near Higher Summerlands and race full-pelt down Heavitree-hill towards the heart of the city. The most diligent enquiries, however, fail to furnish any trace of its ever having got as far High-street. Where it actually sought refuge, or what was the manner of its untimely end, if it failed to elude the inevitable attentions of stray dog inquisitive pedestrian sportsman, is unknown. In any event however, if had a goodly run of well over half a mile for its cheeky excursion into town life. By the way, isn't March the month generally associated with madness in hare circles?
Western Times - Saturday 24 July 1915
An Accident at Exeter
A block was caused in the traffic in Highstreet, Exeter, about 6 o'clock last evening by a simple accident. A carrier's van, belonging to Mr. Parrish, of Bradninch had come from Queen-street, and turned on High-street in the direction of the Post Office, when, just opposite the "Western Times" Office, one of the back wheels caught the tram-track. The spokes were wrenched from their sockets in the axle but held on sufficiently to keep the vehicle in an upright position. Meanwhile the traffic of the trams was held up, and at one time five cars were on the Guildhall side and four on the Post Office side of the waggon. Extra police were promptly on duty to regulate traffic, the block continuing for an hour. About 7 o'clock a trolley was placed under the axle and the waggon was drawn to the side of the street where it remained until the load had been transferred to another vehicle.
Western Times - Saturday 31 July 1915

The Exeter
'Comment'

from Exeter Memories

This site is run by a resident of who loves the city
Exeter Pubs by David Cornforth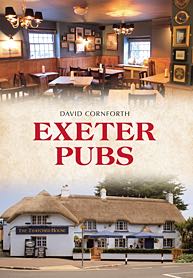 Over the past few centuries, nearly 500 pubs have opened their doors in Exeter. While many have been lost due to time, money or misfortune, the stories and memories created in these 'locals' live on. Exeter Pubs offers a captivating glimpse into the history of some of Exeter's most famous pubs. Drawing upon an eclectic collection of photographs, David Cornforth presents the reader with an insight into the history and life of the pubs in this area. From pub dogs to landlords, famous visitors to suspicious fires, this book tells the stories of Exeter's numerous watering holes. Just like countless travellers over the centuries, the modern reader is encouraged to stop for a pint in each and continue the stories of these historic establishments. Well-researched and beautifully illustrated, Exeter Pubs provides something for everyone, whether they have lived in Exeter all their lives, or whether they are just visiting this vibrant town. Available from Amazon Exeter Pubs (Amberley Pub)
Exeter City go to Argentina
It was a hundred years ago that Exeter City went to Argentina to teach the locals something about football. On the 22 May 1914, the team, along with team officials and WAGS (yep, that's right or maybe they were wives of officials, and they sure wore bonny hats!) left Exeter Queen Street station for Southampton, for a boat to Argentina.See photo on this page May 1914. In July 1914 they had the honour of playing a 3-3 draw with the Brazil national side, when they toured South America.
Exeter Memories on Facebook and Twitter
Exeter Memories has a Page and a Group on Facebook. The group is for people to swap memories of living in the city – at the moment, the 1960s and 70s are very popular. You can also follow #ExeterMemories on Twitter, where the latest pages are promoted and events that happened on the day are linked.
Historic Buildings of Exeter - iBook for your iPad
Published on the 1 December 2012 is the Exeter Memories iBook Historic Buildings of Exeter. Liberally illustrated with full screen photographs, illustartions and maps, the interactive book covers fourteen of Exeter's most loved buildings. The photos look stunning on the Retina display of the iPad 3, while the new iPad Mini is a convenient way to view the book. If you have an iPAd and love Exeter, this is the eBook for you. Moderately priced at £2.49, the book is available from iTunes here - Historic Buildings of Exeter - David Cornforth
Downloads to Support Exeter Memories
Exeter Memories has never had any Google ads, nor any other form of income generation. To help finance the hosting of the site I have added three downloads, that can be purchased for £2 each. Click on the PURCHASE button on any page to see the downloads. There is the choice of seven large sized, hi-res map files of the city, or two eBooks — Charles Worthy's The History of the Suburbs of Exeter and the charming James Cossins' Reminiscences of Exeter Fifty Years Since. Both books can be purchased in ePub (Sony, Nook etc) format or Kindle format Screen readers can also be downloaded for your computer - see free Adobe Reader. Please support Exeter Memories by purchasing a download.
That's all for now,
David Cornforth - My Contact E-Mail