1,000 pages, 8,200 photos

Historic film, video and sound
New Pages
Earliest
Devon High Gaol
Mowbray House Maternity Home
Emmanuel Church, St Thomas
Lloyds Tobacco Co
Digby Hospital
Exeter Rowing Club
Exe Island Mission Hall
Boys' Industrial School–Exe Island
Queen's Chambers
Northernhay House
Artillery Inn
Exeter's Pram and Toy Shop
Acland Arms Hotel
The Barnstaple Inn
Princess Alexandra + 'Baby Farmer' murder
Latest 25th September 2016
Updated Pages

St Thomas Workhouse (Redhills)
St Anne's Chapel & Almshouses
Exeter War Memorial
Northernhay Park
Bampfylde House
Stone & Son, chemist
Devon and Exeter Institution
Custom House
John Graves Simcoe
Blitz Fountain and Memorial
The Valiant Soldier
Transport Named Exeter
The Leats of Exeter - City water power
The Jolly Porter/Elmfield Hotel
Most recent 26th September 2016
Quick Links
Exeter Corporation Tramways Employee No 26.
Gene Pitney on the drums at the ABC Exeter. Photo © the late Stan Mallett.
Loading

Forum and contact EMail
Buy Books and Downloads
New - Exeter Pubs by David Cornforth. Also explore the British Newspaper Archive for free. Help fund Exeter Memories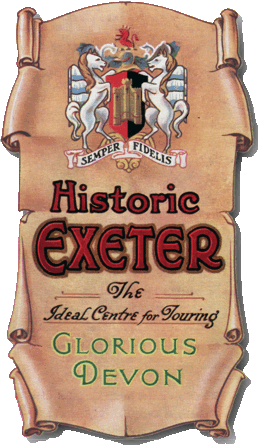 This graphic appeared on the rear of the official Exeter City Council guidebooks for about 15 years, from the 1920s to 1942.
This site currently contains 1,000 pages and more than 8,200 images.
Featured Photos
The Cathedral Dairy at Eastgate, facing the New London Hotel. It eventually became the Co-op.
Looking up New Bridge Street in 1910. The Star and Garter Hotel, on the left, was demolished in 1933 for road widening. Bonhay Road is behind the lampost.
One hundred years ago – September 1916
See more 1913, 1914, 1915 & 1916
Bostock's Wonderful Circus
It is five years since Bostock's famous circus was in Exeter, so that its flying visit to the Pinhoe-road field on Thursday next will be an event looked forward to with a great deal of interest. A very delightful and entertaining programme is promised, containing twenty items of pleasing variety. The artistes have a reputation for remarkable efficiency. Each one is a specialist. The equestrian feats by the Biscini family will be found to be truly marvellous. We might, indeed, dilate at length on each of the excellent turns mentioned in the advertisement, which will be found elsewhere in this issue, but, the proof of the pudding is always the eating thereof, so a true perception of the very unique merits of this unrivalled circus can only had attending it. And, indeed, why should not you? The prices are extremely reasonable.
Western Times - Friday 1 September 1916
Local and District News
Excellent fishing is now being had in the Exeter Canal, particularly from Double Locks downwards. Several roach and perch over a half-pound have been landed and yesterday Mr. Lees, a resident of Polsloe-road killed as part of 5lb, outside the Double Locks Hotel. Some time since the canal was stocked with bream, a fish that is remarkably game. An experienced rodsman, indeed, says it behoves any fishermen hooking (say) a 1lb, bream to have his tackle in good order else he may be deprived of a catch.
Western Times - Saturday 2 September 1916
Local and District News
Citizens will be pleased to hear that Exeter General Post Office is now being reopened at 2:30 each afternoon. The 3 o'clock reopening had proved a great inconvenience to persons having business at the office
Western Times - Wednesday 20 September 1916
HEAVIER PENALTIES
To be Imposed for Unscreened Lighting
AT EXETER
Another batch of summonses in respect to unscreened lights was dealt with at the Exeter Police Court, yesterday. Fines of one pound were inflicted in most instances, but at the close of the hearing the Mayor (Mr. J. G. Owen) said that in any future prosecutions citizens would render themselves liable to much heavier penalties.
Local and District News
All the electric globes at the Exeter Cathedral have been supplied with shades, in order to comply with the lighting order. They were in use for the first time at the evening service on Sunday.
Western Times - Wednesday 27 September 1916
Local and District News
On Thursday a lady cyclist, Ellen Blackmore, was taken to the Royal Devon and Exeter Hospital with a wound over the right eye, sustained in falling off her machine in Fore-street, Exeter, the tyre of the cycle catching on a tramline. She was not detained at the hospital
Western Times - Saturday 30 September 1916

The Exeter
'Comment'

from Exeter Memories

This site is run by a resident of who loves the city
Exeter Pubs by David Cornforth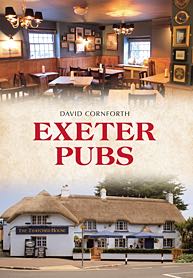 Over the past few centuries, nearly 500 pubs have opened their doors in Exeter. While many have been lost due to time, money or misfortune, the stories and memories created in these 'locals' live on. Exeter Pubs offers a captivating glimpse into the history of some of Exeter's most famous pubs. Drawing upon an eclectic collection of photographs, David Cornforth presents the reader with an insight into the history and life of the pubs in this area. From pub dogs to landlords, famous visitors to suspicious fires, this book tells the stories of Exeter's numerous watering holes. Just like countless travellers over the centuries, the modern reader is encouraged to stop for a pint in each and continue the stories of these historic establishments. Well-researched and beautifully illustrated, Exeter Pubs provides something for everyone, whether they have lived in Exeter all their lives, or whether they are just visiting this vibrant town. Available from Amazon Exeter Pubs (Amberley Pub)
Exeter City go to Argentina
It was a hundred years ago that Exeter City went to Argentina to teach the locals something about football. On the 22 May 1914, the team, along with team officials and WAGS (yep, that's right or maybe they were wives of officials, and they sure wore bonny hats!) left Exeter Queen Street station for Southampton, for a boat to Argentina.See photo on this page May 1914. In July 1914 they had the honour of playing the Brazil national side, losing 2-0, when they toured South America.
Exeter Memories on Facebook and Twitter
Exeter Memories has a Page and a Group on Facebook. The group is for people to swap memories of living in the city – at the moment, the 1960s and 70s are very popular. You can also follow #ExeterMemories on Twitter, where the latest pages are promoted and events that happened on the day are linked.
Historic Buildings of Exeter - iBook for your iPad
Published on the 1 December 2012 is the Exeter Memories iBook Historic Buildings of Exeter. Liberally illustrated with full screen photographs, illustartions and maps, the interactive book covers fourteen of Exeter's most loved buildings. The photos look stunning on the Retina display of the iPad 3, while the new iPad Mini is a convenient way to view the book. If you have an iPAd and love Exeter, this is the eBook for you. Moderately priced at £2.49, the book is available from iTunes here - Historic Buildings of Exeter - David Cornforth
Downloads to Support Exeter Memories
Exeter Memories has never had any Google ads, nor any other form of income generation. To help finance the hosting of the site I have added three downloads, that can be purchased for £2 each. Click on the PURCHASE button on any page to see the downloads. There is the choice of seven large sized, hi-res map files of the city, or two eBooks — Charles Worthy's The History of the Suburbs of Exeter and the charming James Cossins' Reminiscences of Exeter Fifty Years Since. Both books can be purchased in ePub (Sony, Nook etc) format or Kindle format Screen readers can also be downloaded for your computer - see free Adobe Reader. Please support Exeter Memories by purchasing a download.
That's all for now,
David Cornforth - My Contact E-Mail