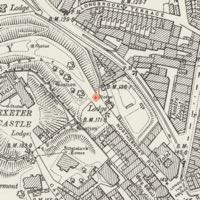 This bronze statue was sculpted in 1875 to be unveiled in 1878 in Bedford Circus. It was sculpted by E B Stephens ARA, and cast in bronze.
It was presented to the city by his Devonshire friends and admirers from London, during the Mayoralty of H D Thomas. The Flying Post reported:
"That the Right Worshipful The Mayor be requested to act as treasurer to the fund to be raided by public subscription, for the purpose of aiding the Committee formed in London, having for its object the presentation to the city of "The Deer Stalker," a work of art recently exhibited by Mr, Stephens, the celebrated Exonian sculptor."
The motion was carried. In January 1877, a subscription fund was opened to purchase the artwork, and some of the first donations were from the Duke of Westminster, Henry Veitch, Richard Pople, and the Earl of Fortescue, among others. The largest donation was £21 from Mr C Fellows Pearson. The group of London admirers raised £500, and the city a further £500 to match the catalogue price.
This piece is recognised as his chef d'œuvre and was exhibited at the Royal Academy in 1876.
The work was presented to the city on the 30 August 1878 in the presence of the Mayor, the Sheriff, Devon's great and good, and E B Stephens himself. A luncheon followed at the New London Inn.
Mounted on a granite pedestal, the whole was surrounded by an iron railing cast by Garton and King, at a cost of £300. In 1880, it was proposed to move the statue to London Inn Square, and to place another Stephen's statue of Lord Courtenay in its place. Many members of the council approved, but there was a determined opposition to the site, and an alternative location in Northernhay Gardens, near Skinner's Lodge was proposed. A later meeting decided that the Northernhay site would be best and that the railings and base be included in the move, but their ownership retained by the Council; the statue came under the authority of the Devon Statue Committee in the gardens. A gate was erected at the entrance of the gardens for the first time, at a cost of £70. The unveiling of the statue in its new home was on the 8 October 1880.
The railings were never moved with the statue but were retained by the Council and re-used for the Courtenay statue. The original Garton and King plans for the railing were very precise with the measurements – it was made at their Waterbeer Street foundry. The blue parts in the original plan were wrought iron, the rest was cast iron.
In 1892, the sculpture was hit by the graffiti artists of the city, when chalk was smeared over the descriptive plate, much to the displeasure of the correspondent in the Flying Post.
Sources: The British Newspaper Archive