New Pages
Earliest
Exeter Prison (Devon County Gaol)
The Kings (Cowick Street)
Exwick School
Then and Now Mashups
Walton and Co., High Street
Paul Street Bus Station
Paris Street Bus Station
Panters of Sidwell Street
Exeter's first kidney transplant
St John's (Tabernacle Chapel)
Exminster Lime Kilns
Latest 24th November 2014
Updated Pages
Guildhall - new text and photos
Harlequins Centre
Exeter Folk
City Palace, Fore Street
Transport named Exeter
ABC pop & rock gigs of the 60s
Dissenters Burial Ground
Thomas Moore
Westgate Mural
Green Gables, Buddle Lane
Cart Horse Parade
Half Moon Hotel
Rougemont House
Haccombe House, (now Addison Close)
Greenslades Coaches
Rifford Road
Most recent 28th November 2014
Quick Links

Historic film, video and sound
William Cecil was Bishop of Exeter between 1916 and 1936. He was often seen cycling the streets, easily recognisable with his beard.
The statue of Henry VII that once hung on the wall of Eastgate House, now Next.
Loading

Forum and contact EMail
Buy Books and Downloads
New - Exeter Pubs. Also explore the British Newspaper Archive for free. Help fund Exeter Memories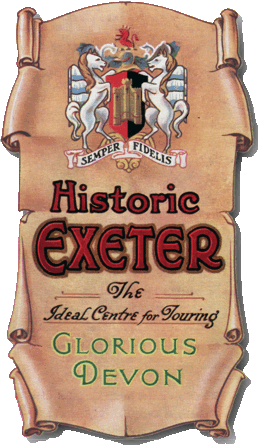 This graphic appeared on the rear of the official Exeter City Council guidebooks for about 15 years, from the 1920s to 1942.
This site currently contains 900 pages and more than 5,000 images.
Exeter Local History Society
Join the Exeter Local History Society and discover 2000 years of the history of Exeter. Learn of intrigue, plots, disasters, celebrations and the way of life of past generations of the city.
We meet six times a year at the The Mint, Fore Street, for a chat, and a talk from an expert on a historical topic. There are also 'outside visits' with a guide to see aspects of the city's past.
Come along to a meeting without obligation - upcoming meetings can be found here
Contact E-Mail
Links to other sites
List of Sources Used
Site Map
Photos Wanted
Benefactors
Featured Photos
The lime kilns by the canal at Exminster, circa 1930. See Lime kilns. Photo © Mervyn Sellick.
The high-rise Royal Devon and Exeter Hospital at Wonford suffered from concrete cancer. It was demolished in the early 1990s. Photo © Andre Thorpe.
EXETER ONE HUNDRED YEARS AGO this DECEMBER
This Month in Exeter - 1914 also see 1913
Price of bread.
The price of bread in Exeter was yesterday advanced a halfpenny per quartern.
Western Times - Tuesday 01 December 1914
Damaged telephone lines
One of the telephone trunk lines between Exmouth and Exeter blew down during the gale of yesterday, and some delay was occasioned in getting calls through in consequence.
Exeter and Plymouth Gazette - Saturday 05 December 1914
EXETER EMPIRE.
An excellent programme is being placed before the trans of the Empire Electric Theatre for the first part this week. The "'star" is the spool entitled "A Rogue's Honour,"' which is an exciting three-act production of the performances a gentleman cracksman. Another film is an Essanay drama, "The Countess," in which a reporter is assigned to got a feature story for Sunday." He gets a position as a Countess, who has broken a vow made to the leader of a notorious gang, who tries to kill her. The "butler" saves her, and his feature story, after he had revealed was the announcement of a wedding. "The Wjdow of Red Rock," which Wallie Van and Hughie Mach take part, is a humorous film, while other comic films are "His "Winning Way" and and "Easy money.' The "Gaumont Graphic,'" which gives all the latest news, completes the programme.
Exeter and Plymouth Gazette - Tuesday 08 December 1914
Wounded return.
A six-carriage hospital train, containing wounded English soldiers, stopped at Queen-street Station, Exeter, last evening for a few minutes. It was on its way to the South Devon hospitals. There were few serious cases on the train, and the men for the most part, were decidedly cheerful.
Western Times - Thursday 10 December 1914
WHAT SOLDIERS WANT.
To the Editor of the Daily Gazette.
Sir, —As there have been conflicting stories about the needs our Devon Regiment at the front, wrote the Commanding-officers of the 1st and 2nd Battalions, asking them what their men required. I have heard from Colonel Williams and Colonel Travels, and gather from them that the Government has now issued supplies of shirts and socks. Both officers, however, mention vests and pants, mufflers, and warm gloves as being especially welcome. Muffle and gloves are regarded as luxuries, and will not be issued officially. Therefore, may I suggest that ladies of Devon concentrate their efforts on mufflers, mittens, and gloves? Other articles specifically asked for the Commanding-officers are chocolate, small tins unsweetened milk, envelopes, pencils (cannot be too many of these), playing cards, pipes, khaki waterproof-cape, gymnastic shoes (sizes 9, 10, for use by men suffering from frostbite, air pillows, and Egyptian cigarettes}.
Yours sincerely,
J. KIRK G. OWEN, Mayoress.
The Mayoress's Depot, Guildhall, Exeter, December 10th, 1914.
Exeter and Plymouth Gazette - Monday 14 December 1914
Sailor Indignant at Slow Recruiting of Exeter.
An Exeter sailor on duty in the North Sea, writing to his parents, says: "I felt a bit sick when I read your letter dealing with the slow recruiting for 'Exeter's Own.' To think that we are at sea doing our best to ensure food supply for these ' k'nuts ' and give them a place where they can lay their heads in safety! It not very encouraging to know that there are hundreds at Exeter watching football matches and walking out with girls. Those at Exeter ought to follow the example of the young ladies in Newcastle. They ' Cut' every young fellow who will not join up."
Western Times - Thursday 24 December 1914

The Exeter
'Comment'

from Exeter Memories

This site is run by a resident of who loves the city
Exeter Pubs by David Cornforth
Over the past few centuries, nearly 500 pubs have opened their doors in Exeter. While many have been lost due to time, money or misfortune, the stories and memories created in these 'locals' live on. Exeter Pubs offers a captivating glimpse into the history of some of Exeter's most famous pubs. Drawing upon an eclectic collection of photographs, David Cornforth presents the reader with an insight into the history and life of the pubs in this area. From pub dogs to landlords, famous visitors to suspicious fires, this book tells the stories of Exeter's numerous watering holes. Just like countless travellers over the centuries, the modern reader is encouraged to stop for a pint in each and continue the stories of these historic establishments. Well-researched and beautifully illustrated, Exeter Pubs provides something for everyone, whether they have lived in Exeter all their lives, or whether they are just visiting this vibrant town. Available from Amazon Exeter Pubs (Amberley Pub)
Exeter City go to Argentina
It was a hundred years ago that Exeter City went to Argentina to teach the locals something about football. On the 22 May 1914, the team, along with team officials and WAGS (yep, that's right or maybe they were wives of officials, and they sure wore bonny hats!) left Exeter Queen Street station for Southampton, for a boat to Argentina.See photo on this page May 1914. In July 1914 they had the honour of playing a 3-3 draw with the Brazil national side, when they toured South America.
Exeter Memories on Facebook and Twitter
Exeter Memories has a Page and a Group on Facebook. The group is for people to swap memories of living in the city – at the moment, the 1960s and 70s are very popular. You can also follow #ExeterMemories on Twitter, where the latest pages are promoted and events that happened on the day are linked.
Historic Buildings of Exeter - iBook for your iPad
Published on the 1 December 2012 is the Exeter Memories iBook Historic Buildings of Exeter. Liberally illustrated with full screen photographs, illustartions and maps, the interactive book covers fourteen of Exeter's most loved buildings. The photos look stunning on the Retina display of the iPad 3, while the new iPad Mini is a convenient way to view the book. If you have an iPAd and love Exeter, this is the eBook for you. Moderately priced at £2.49, the book is available from iTunes here - Historic Buildings of Exeter - David Cornforth
Downloads to Support Exeter Memories
Exeter Memories has never had any Google ads, nor any other form of income generation. To help finance the hosting of the site I have added three downloads, that can be purchased for £2 each. Click on the PURCHASE button on any page to see the downloads. There is the choice of seven large sized, hi-res map files of the city, or two eBooks — Charles Worthy's The History of the Suburbs of Exeter and the charming James Cossins' Reminiscences of Exeter Fifty Years Since. Both books can be purchased in ePub (Sony, Nook etc) format or Kindle format Screen readers can also be downloaded for your computer - see free Adobe Reader. Please support Exeter Memories by purchasing a download.
That's all for now,
David Cornforth - My Contact E-Mail