1,000 pages, 8,200 photos

Historic film, video and sound
Page of the Week
The Cattle Market, Bonhay Road
New Pages
Earliest
Colourful Innkeepers of Exeter
Marks & Spencer in Exeter
Bradninch Hall aka The Vineyard
Maps of the City of Exeter
Surviving a bomb in a Morrison Shelter
Phyllis Grimes RAF fitter
Memories of Heles School
Latest 2nd April 2021
Updated Pages
Exeter Theatre new text/photo
Exeter's Gasworks new text
Polsloe Road new photos and text
HMS Exeter crew members
Dick Pym goalkeeper
WW1 - Roll of Honour
Imperial Hotel
St Sidwella Public art
Synagogue
Most recent 1st March 2021
Quick Links
Harry Weslake, automobile engineer.
Archbishop Temple, born in Exeter.
Tip – use Search or Site Map
Join the Exeter Memories
Group Page
Contact EMail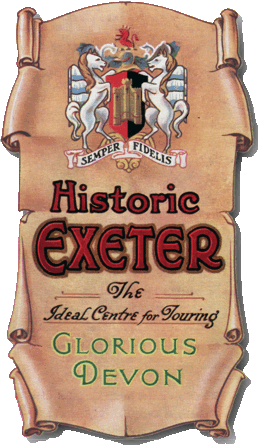 This graphic appeared on the rear of the official Exeter City Council guidebooks for about 15 years, from the 1920s to 1942.
Historic photos–April 2021
The White Lion Hotel in Sidwell Street Sidwell Street pubs.
Half Moon Hotel, High Street.
One hundred years ago – April 1921
An Alleged Exeter Failure
At the meeting of Devon Main Roads Committee yesterday, a resolution of the County Councils' Association in favour of adopting the left-hand rule for the footpath was received-Sir John Shelley: As has failed in the City of Exeter I think we can pass on.— No action wars taken.
Western Times - Saturday 02 April 1921
CHILD LEFT ON DOORSTEP.
Ada Sims, fixed abode, was charged at Exeter Police-court, yesterday, with failing to maintain her child, which had become chargeable to the Poor-law authorities. Accused she left the child with her sister while she sought work. Mr. Snell, clerk to Exeter Board of Guardians, said the child was left on its aunt's doorstep. Replying to questions, Sims admitted she did not have permission to leave the child at the aunt's house. She had been to the Easter Fair and was to have commenced work that morning as a domestic servant. Accused... was sentenced to 21 days' imprisonment with hard labour.
Exeter and Plymouth Gazette - Saturday 02 April 1921
Exeter Girl Charged With Bigamy
Jessie Adcock, 18, an Exeter girl, was charged at Plymouth on Saturday with committing bigamy by marrying John Richards last month, her former husband, whom she was married twelve months ago, being then alive.—P.C. Denley, who received accused in custody from the Exeter police, said the girl told him, "Richards knew I was married before I left Exeter. After came to Plymouth with him I asked him let me return to my husband, but made me marry him." A remand was granted by the magistrates.
Western Times - Tuesday 05 April 1921
Exeter Pubs by David Cornforth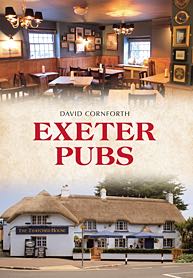 Over the past few centuries, nearly 500 pubs have opened their doors in Exeter. While many have been lost due to time, money or misfortune, the stories and memories created in these 'locals' live on. Exeter Pubs offers a captivating glimpse into the history of some of Exeter's most famous pubs. Drawing upon an eclectic collection of photographs, David Cornforth presents the reader with an insight into the history and life of the pubs in this area. From pub dogs to landlords, famous visitors to suspicious fires, this book tells the stories of Exeter's numerous watering holes. Just like countless travellers over the centuries, the modern reader is encouraged to stop for a pint in each and continue the stories of these historic establishments. Well-researched and beautifully illustrated, Exeter Pubs provides something for everyone, whether they have lived in Exeter all their lives, or whether they are just visiting this vibrant town. Available from Amazon Exeter Pubs (Amberley Pub)
Exeter Memories on Facebook and Twitter
Exeter Memories has a Page and a Group on Facebook. The group is for people to swap memories of living in the city – at the moment, the 1960s and 70s are very popular. You can also follow #ExeterMemories on Twitter, where the latest pages are promoted and events that happened on the day are linked.
Historic Buildings of Exeter - iBook for your iPad
Published on the 1 December 2012 is the Exeter Memories iBook Historic Buildings of Exeter. Liberally illustrated with full screen photographs, illustartions and maps, the interactive book covers fourteen of Exeter's most loved buildings. The photos look stunning on the Retina display of the iPad 3, while the new iPad Mini is a convenient way to view the book. If you have an iPAd and love Exeter, this is the eBook for you. Moderately priced at £2.49, the book is available from iTunes here - Historic Buildings of Exeter - David Cornforth
That's all for now,
David Cornforth - My Contact E-Mail