1,000 pages, 8,200 photos

Historic film, video and sound
New Pages
Earliest
Exeter's Pram and Toy Shop
Acland Arms Hotel
The Barnstaple Inn
Princess Alexandra + 'Baby Farmer' murder
Sludge vessel MV Countess Wear
Cellars on the Quay
The Goldsmith Street Arcade–J H Newman
Palace Gate–the Gate
Bear Gate
St Martin's Gate
Little Stile
Catherine Gate
18 Cathedral Yard-The Mansion House
Exeter's Great Conduit
A passage to India from Exeter
Latest 26th February 2017
Updated Pages
Frog Street
Eastgate in 3D
The Norman House
St Peter's Statue
Tabernacle Chapel
Pinder and Tuckwell
The Riverside Leisure Centre
1917 Tram Crash
Exe Island Mission Hall
HMS Exeter River Plate Crew List
Gene Kemp, children's author
Thatched House, Exwick
Most recent 23rd March 2017
Quick Links
Exeter Corporation Tramways Employee No 26.
Goog Hoskins, the well known Exeter Falcons rider. See Falcons Riders
Tip – use Search or Site Map
Loading
Join the Exeter Memories
Group Page

Forum and contact EMail
Free Download plus Buy Books and Downloads
New - Exeter Pubs by David Cornforth. Also explore the British Newspaper Archive for free. Help fund Exeter Memories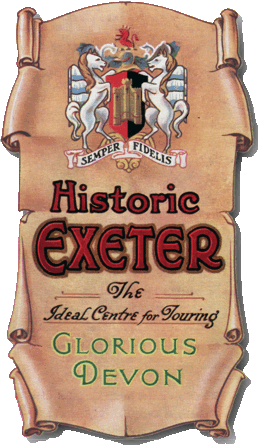 This graphic appeared on the rear of the official Exeter City Council guidebooks for about 15 years, from the 1920s to 1942.
This site currently contains 1,000 pages and more than 8,200 images.
Historic buildings in 3D
A partly demolished Exe Bridge, 1972. Exe Bridge
Beatle fans at an ABC concert. ABC Concerts
One hundred years ago – March 1917
See more 1913, 1914, 1915, 1916 and 1917
Tram and horse
Yesterday Charles Knight, carter Isca-road, Exeter, sustained an injury to his left leg and a cut over the right eye, on Exe Bridge, through the horse which he was driving taking fright at a tram car, mounting the footpath and jambing him against the bridge. The animal bolted along Alphington-street, where it was stopped by Acting-Sergt. Elford and Mr. E, D. Western.
Western Times - Thursday 01 March 1917
TRAMCAR WRECKED
Bad Smash at Exeter Yesterday Morning
OVERTURNS ON EXE BRIDGE
After Dash Down Fore-street Hill.
WOMAN KILLED : SEVERAL INJURED.
Graphic Narratives by Eyewitnesses.
Great excitement was caused in Exeter yesterday when it was learned that owing to an, apparently, runaway tramcar, accidents had occurred Fore-street Hill and at Exe Bridge with fatal results. The casualties include one woman—a passenger on the car—killed, and several injured. A waggon horse was also killed.
The first part of the accident occurred in Fore-street Hill just after eleven o'clock. A trolley belonging to Messrs. Chaplin and Co., railway contractors, was proceeding down towards the bridge with a load of matches for Mr. Veale, grocer. The driver John Robinson, 29, Exe-street, had drawn somewhat out into the roadway to pass a barrow drawn up outside the pavement, when, without warning, a tramcar plying between Heavitree and Dunsford-hill collided with the waggon, overturning it, and smashing a wheel and the shafts. The collision, it appears, jerked the horse with terrific force against the shop front of Mr. R. Arnold, baker and provision merchant, killing the animal, whilst some show cases outside the shop were badly damaged... Tram Crash
Exeter Children's Court
At the Exeter Juvenile Court yesterday an errand boy of Wonford was fined 5s for riding a bicycle furiously in Fore-street, Heavitree. on the 22nd mat.—Two schoolboys of Frog-street were ordered to be birched—six strokes and four strokes respectively—for stealing 14 periodicals from a bicycle in Edmund-street. The owner, Mr. A. J. Godfrey, left his bicycle about half a minute, and on his return missed, the papers. The lads offered them for sale to newsagents, including Mr. Pitman, who happened to be a special constable, and who took the boys to the police Station. One of the lads stated that they intended to sell the papers and go to the picture palace with the proceeds. The Bench thanked Mr. Pitman for aft action in the matter.
Western Times - Tuesday 17 March 1917
Dog steals joint
Two butcher boys had an exciting chase after a collie dog in St. Sidwell's, Exeter, yesterday afternoon. The dog had secured a luscious joint of pork, and was seeking a quiet place in which to eat it. But the cyclist were seen on his track, and he had a great run for his prize.
Western Times - Saturday 24 March 1917

The Exeter
'Comment'

from Exeter Memories

This site is run by a resident of who loves the city
Exeter Pubs by David Cornforth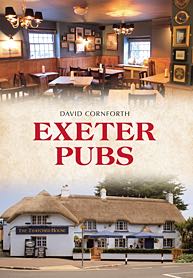 Over the past few centuries, nearly 500 pubs have opened their doors in Exeter. While many have been lost due to time, money or misfortune, the stories and memories created in these 'locals' live on. Exeter Pubs offers a captivating glimpse into the history of some of Exeter's most famous pubs. Drawing upon an eclectic collection of photographs, David Cornforth presents the reader with an insight into the history and life of the pubs in this area. From pub dogs to landlords, famous visitors to suspicious fires, this book tells the stories of Exeter's numerous watering holes. Just like countless travellers over the centuries, the modern reader is encouraged to stop for a pint in each and continue the stories of these historic establishments. Well-researched and beautifully illustrated, Exeter Pubs provides something for everyone, whether they have lived in Exeter all their lives, or whether they are just visiting this vibrant town. Available from Amazon Exeter Pubs (Amberley Pub)
Exeter City go to Argentina
It was a hundred years ago that Exeter City went to Argentina to teach the locals something about football. On the 22 May 1914, the team, along with team officials and WAGS (yep, that's right or maybe they were wives of officials, and they sure wore bonny hats!) left Exeter Queen Street station for Southampton, for a boat to Argentina.See photo on this page May 1914. In July 1914 they had the honour of playing the Brazil national side, losing 2-0, when they toured South America.
Exeter Memories on Facebook and Twitter
Exeter Memories has a Page and a Group on Facebook. The group is for people to swap memories of living in the city – at the moment, the 1960s and 70s are very popular. You can also follow #ExeterMemories on Twitter, where the latest pages are promoted and events that happened on the day are linked.
Historic Buildings of Exeter - iBook for your iPad
Published on the 1 December 2012 is the Exeter Memories iBook Historic Buildings of Exeter. Liberally illustrated with full screen photographs, illustartions and maps, the interactive book covers fourteen of Exeter's most loved buildings. The photos look stunning on the Retina display of the iPad 3, while the new iPad Mini is a convenient way to view the book. If you have an iPAd and love Exeter, this is the eBook for you. Moderately priced at £2.49, the book is available from iTunes here - Historic Buildings of Exeter - David Cornforth
Downloads to Support Exeter Memories
Exeter Memories has never had any Google ads, nor any other form of income generation. To help finance the hosting of the site I have added three downloads, that can be purchased for £2 each. Click on the PURCHASE button on any page to see the downloads. There is the choice of seven large sized, hi-res map files of the city, or two eBooks — Charles Worthy's The History of the Suburbs of Exeter and the charming James Cossins' Reminiscences of Exeter Fifty Years Since. Both books can be purchased in ePub (Sony, Nook etc) format or Kindle format Screen readers can also be downloaded for your computer - see free Adobe Reader. Please support Exeter Memories by purchasing a download.
That's all for now,
David Cornforth - My Contact E-Mail