1,000 pages, 8,200 photos

Historic film, video and sound
New Pages
Earliest
The City Library
Heavitree Evangelical Church
Heavitree United Reformed Church
Castle Street Chapel
The Timepiece
Devon High Gaol
Mowbray House Maternity Home
Emmanuel Church, St Thomas
Lloyds Tobacco Co
Digby Hospital
Exeter Rowing Club
Exe Island Mission Hall
Boys' Industrial School–Exe Island
Queen's Chambers
Northernhay House
Latest 5th July 2016
Updated Pages
Great Western Hotel
Exeter's Brickworks
Royal Albert Memorial Museum (RAMM)
Wash-house West Quarter
Exeter Eye Infirmary
Countess Wear Bridge
St Thomas Workhouse (Redhills)
St Anne's Chapel & Almshouses
Exeter War Memorial
Northernhay Park
Bampfylde House
Stone & Son, chemist
Devon and Exeter Institution
Custom House
Most recent 17th August 2016
Quick Links
Exeter Corporation Tramways Employee No 26.
Gene Pitney on the drums at the ABC Exeter. Photo © the late Stan Mallett.
Loading

Forum and contact EMail
Buy Books and Downloads
New - Exeter Pubs by David Cornforth. Also explore the British Newspaper Archive for free. Help fund Exeter Memories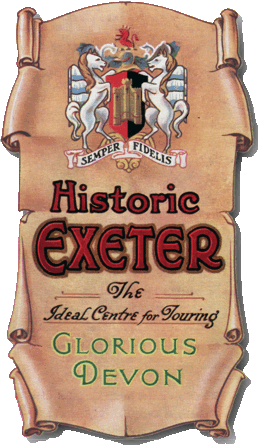 This graphic appeared on the rear of the official Exeter City Council guidebooks for about 15 years, from the 1920s to 1942.
This site currently contains 1,000 pages and more than 8,200 images.
Featured Photos
West Street before November 1961 when they moved the Merchant's House (House that Moved) to the space on the left.
Looe Road from a 1935 brochure. Built by the Exeter Workman'' Dwelling Company, they are now known as Cornerstone. Courtesy of Cornerstone.
One hundred years ago – August 1916
also see 1913, 1914, 1915 & 1916
Is Too Much Expected of Exeter Police?
"Why didn't you take me home" queried a defendant at Exeter Police Court on Saturday, when P. C. Gregory stated that in consequence of his being drunk and incapable he brought him to the police station from the top of Paris-street the previous evening. Defendant was Edward George Cobley, of Summerland Row, Exeter, who is a fisherman at Topsham. "Why should he take you home?" asked Mr. Bradley Rowe, one of the magistrates. "You were a nuisance to the public in that state." Defendant denied that was a nuisance, and stated that he lost, his way. Since a fine 5s in August last for a similar offence, he stated, he had been in France till last Thursday. He was now fined 10s and costs, and 12s 3d being found on him when arrested, he was told to bring the balance of the 15s.
Western Times - Monday 14 August 1916
WHIPTON
Official notice of the death of Wallace Venn Hawkes, who has been killed in action in France, has been received by his parents at Whipton, and has occasioned great regret in the village. The deceased was the second son of Mr. and Mrs. Hawkes, Sexton and Sextoness of Whipton Church, and was a private in the Devons. He was only 24 years age.
Western Times - Tuesday 15 August 1916
Private Proctor. V.C., Formerly of Exeter
Among those who received decorations at the hands of the King on his Majesty's recent visit to the British Headquarters of the Western Front, was Private Arthur Henry Herbert Procter, of the King's Liverpool Regiment, Territorial Force, whose name appeared in the list of Victoria Cross honours issued recently. Private Procter, V.C., is an "Old Boy" of St. John's Hospital School, Exeter, and a nephew of Mr H. G. Procter, 61, St. Davids-hill, Exeter. On the occasion of the decoration Private Procter said he had never been funky before the Boche, but was nervous at having to face the King.
Western Times - Thursday 17 August 1916
Prices
The price of butter increased in Exeter Market yesterday to 1s 11d and 2s per lb., an increase of 1d per 1lb. This followed on a similar increase last week. Eggs were 2d each.
Western Times - Saturday 26 August 1916

The Exeter
'Comment'

from Exeter Memories

This site is run by a resident of who loves the city
Exeter Pubs by David Cornforth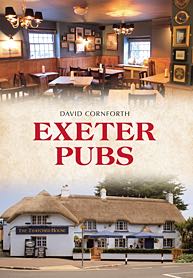 Over the past few centuries, nearly 500 pubs have opened their doors in Exeter. While many have been lost due to time, money or misfortune, the stories and memories created in these 'locals' live on. Exeter Pubs offers a captivating glimpse into the history of some of Exeter's most famous pubs. Drawing upon an eclectic collection of photographs, David Cornforth presents the reader with an insight into the history and life of the pubs in this area. From pub dogs to landlords, famous visitors to suspicious fires, this book tells the stories of Exeter's numerous watering holes. Just like countless travellers over the centuries, the modern reader is encouraged to stop for a pint in each and continue the stories of these historic establishments. Well-researched and beautifully illustrated, Exeter Pubs provides something for everyone, whether they have lived in Exeter all their lives, or whether they are just visiting this vibrant town. Available from Amazon Exeter Pubs (Amberley Pub)
Exeter City go to Argentina
It was a hundred years ago that Exeter City went to Argentina to teach the locals something about football. On the 22 May 1914, the team, along with team officials and WAGS (yep, that's right or maybe they were wives of officials, and they sure wore bonny hats!) left Exeter Queen Street station for Southampton, for a boat to Argentina.See photo on this page May 1914. In July 1914 they had the honour of playing the Brazil national side, losing 2-0, when they toured South America.
Exeter Memories on Facebook and Twitter
Exeter Memories has a Page and a Group on Facebook. The group is for people to swap memories of living in the city – at the moment, the 1960s and 70s are very popular. You can also follow #ExeterMemories on Twitter, where the latest pages are promoted and events that happened on the day are linked.
Historic Buildings of Exeter - iBook for your iPad
Published on the 1 December 2012 is the Exeter Memories iBook Historic Buildings of Exeter. Liberally illustrated with full screen photographs, illustartions and maps, the interactive book covers fourteen of Exeter's most loved buildings. The photos look stunning on the Retina display of the iPad 3, while the new iPad Mini is a convenient way to view the book. If you have an iPAd and love Exeter, this is the eBook for you. Moderately priced at £2.49, the book is available from iTunes here - Historic Buildings of Exeter - David Cornforth
Downloads to Support Exeter Memories
Exeter Memories has never had any Google ads, nor any other form of income generation. To help finance the hosting of the site I have added three downloads, that can be purchased for £2 each. Click on the PURCHASE button on any page to see the downloads. There is the choice of seven large sized, hi-res map files of the city, or two eBooks — Charles Worthy's The History of the Suburbs of Exeter and the charming James Cossins' Reminiscences of Exeter Fifty Years Since. Both books can be purchased in ePub (Sony, Nook etc) format or Kindle format Screen readers can also be downloaded for your computer - see free Adobe Reader. Please support Exeter Memories by purchasing a download.
That's all for now,
David Cornforth - My Contact E-Mail