New Pages
Earliest
The Mayor's Office
Exeter Prison (Devon County Gaol)
The Kings (Cowick Street)
Exwick School
Then and Now Mashups
Walton and Co., High Street
Paul Street Bus Station
Paris Street Bus Station
Panters of Sidwell Street
Exeter's first kidney transplant
Haccombe House, (now Addison Close)
Latest 22nd October 2014
Updated Pages
The Imperial Hotel
Eagle Tavern
This Month in Exeter - 1914
The Angel - Queen Street
Bowling Green - Blackboy Road
Guildhall - new text and photos
Harlequins Centre
Exeter Folk
City Palace, Fore Street
Transport named Exeter
ABC pop & rock gigs of the 60s
Dissenters Burial Ground
Thomas Moore
Westgate Mural
Green Gables, Buddle Lane
Most recent 18th October 2014
Quick Links

Historic film, video and sound
William Cecil was Bishop of Exeter between 1916 and 1936. He was often seen cycling the streets, easily recognisable with his beard.
The statue of Henry VII that once hung on the wall of Eastgate House, now Next.
Loading

Forum and contact EMail
Get an INSTANT DOWNLOAD
Choose an iPad book, Maps, eBooks or Postcard Collections to pay for the site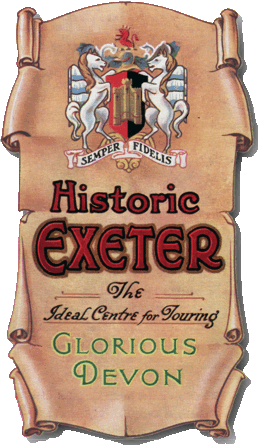 This graphic appeared on the rear of the official Exeter City Council guidebooks for about 15 years, from the 1920s to 1942.
This site currently contains 900 pages and more than 5,000 images.
Exeter Local History Society
Join the Exeter Local History Society and discover 2000 years of the history of Exeter. Learn of intrigue, plots, disasters, celebrations and the way of life of past generations of the city.
We meet six times a year at the The Mint, Fore Street, for a chat, and a talk from an expert on a historical topic. There are also 'outside visits' with a guide to see aspects of the city's past.
Come along to a meeting without obligation - upcoming meetings can be found here
Contact E-Mail
Links to other sites
List of Sources Used
Site Map
Photos Wanted
Benefactors
Featured Photos
Gabriels Wharf on Shilhay, 1960s. There were timber yards and soap and candle works on Shilhay at the time.
A junk sails through Countess Wear Bridge, in the 1970s.
EXETER ONE HUNDRED YEARS AGO THIS OCTOBER
This Month in Exeter - 1914 also see 1913
Further Party Received at Exeter
Another party of Belgian refugees were received at St. David's Station shortly before five o'clock last evening by Miss Andrew and members of the Exeter Committee. They numbered in all between twenty and thirty, and were mostly the wives of Belgians who had been in apparently, good circumstances. Only two men were with the party, which included also young girls and one or two children. Among the latter was a little boy about five years age, with flaxen curls - and dressed in a sailor's suit. This little follow immediately became a warm favourite with everyone.
Western Times - Tuesday 13 October 1914
EXETER CANAL.
MOTORISTS' COMPLAINT.
… Our contemporary says:—"A correspondent draws our attention to a road danger which he encountered during a recent tour in South Devon. This is the swing bridge over the Exeter Canal on the main road from Exminster to Clyst St. Mary. When motoring to Sidmouth recently the bridge was open over this Canal, but there was nothing on the western side of the Canal to stop the traffic, nor was there any clear warning that the bridge was open. The danger was not realised until the car was three yards of the brink of the Canal, a sheer drop of about 12ft into deep water. Luckily it was broad daylight and our correspondent was proceeding at a moderate pace; otherwise a bad accident would probably have resulted. It was subsequently pointed out to him that there was a notice put up near the Canal itself, and another about a hundred yards back on the railway bridge. The latter is by no means clear; in fact, it is a lengthy notice in small type warning cyclists to proceed, slowly until they see whether the bridge across Canal is open or not. Our correspondent states, however, that it is impossible for, any motorist to read this notice even as slow a speed of 10 miles an hour. It is suggested that the Devon and Cornwall Automobile Club should draw the attention of the local authorities to this danger, and agitate for some more legible form of warning which would be easily visible either day or night."
Exeter and Plymouth Gazette - Tuesday 13 October 1914
Canadian Troops
Another fleet of the Canadian Army Transport motor cars came into Exeter last night from Plymouth, and quartered at the old Fair Field, Okehampton Road.
Western Times - Saturday 24 October 1914
A KNOWING HORSE.
George Stoneman of Exe Island, admitted leaving a horse and waggon unattended in Cowick-street, and was fined 2s. 6d. He amused the Court by asking the Bench how a man could take his horse in a house with "every 'undred of coal." "My horse walked off." he added. because it was Saturday, and doubt thought it was time to go home '"—(laughter).
Western Times - Saturday 24 October 1914

The Exeter
'Comment'

from Exeter Memories

This site is run by a resident of who loves the city
Exeter City go to Argentina
It was a hundred years ago that Exeter City went to Argentina to teach the locals something about football. On the 22 May 1914, the team, along with team officials and WAGS (yep, that's right or maybe they were wives of officials, and they sure wore bonny hats!) left Exeter Queen Street station for Southampton, for a boat to Argentina.See photo on this page May 1914. In July 1914 they had the honour of playing a 3-3 draw with the Brazil national side, when they toured South America.
Exeter Memories on Facebook and Twitter
Exeter Memories has a Page and a Group on Facebook. The group is for people to swap memories of living in the city – at the moment, the 1960s and 70s are very popular. You can also follow #ExeterMemories on Twitter, where the latest pages are promoted and events that happened on the day are linked.
Historic Buildings of Exeter - iBook for your iPad
Published on the 1 December 2012 is the Exeter Memories iBook Historic Buildings of Exeter. Liberally illustrated with full screen photographs, illustartions and maps, the interactive book covers fourteen of Exeter's most loved buildings. The photos look stunning on the Retina display of the iPad 3, while the new iPad Mini is a convenient way to view the book. If you have an iPAd and love Exeter, this is the eBook for you. Moderately priced at £2.49, the book is available from iTunes here - Historic Buildings of Exeter - David Cornforth
Downloads to Support Exeter Memories
Exeter Memories has never had any Google ads, nor any other form of income generation. To help finance the hosting of the site I have added three downloads, that can be purchased for £2 each. Click on the PURCHASE button on any page to see the downloads. There is the choice of seven large sized, hi-res map files of the city, or two eBooks — Charles Worthy's The History of the Suburbs of Exeter and the charming James Cossins' Reminiscences of Exeter Fifty Years Since. Both books can be purchased in ePub (Sony, Nook etc) format or Kindle format Screen readers can also be downloaded for your computer - see free Adobe Reader. Please support Exeter Memories by purchasing a download.
That's all for now,
David Cornforth - My Contact E-Mail