1,000 pages, 8,000 photos

Historic film, video and sound
New Pages
Earliest
Exeter's Air Cadets - a history
Church of the Blessed Sacrament
St Loyes Chapel
Princesshay Commemorative Feature
Mosley and the Fascists in Exeter
Lant's Almshouses
Information Bureau - Visitor Centre
The City Library
Heavitree Evangelical Church
Heavitree United Reformed Church
Castle Street Chapel
The Timepiece
Devon High Gaol
Mowbray House Maternity Home
Latest 7th February 2016
Updated Pages
Topsham Road Bridge
Exeter Phoenix in Princesshay
Higher Market with extra photos
Public Subscription Rooms
St David's Church
Prince Albert (Goa Spice Indian)
Franklin Cinema
Dix's Field
Head and Blackaller weirs
Exeter in the First War
Exwick Mill - new photos
The Angel
Guinea Street
Bear Street
Group Photos of Exeter Folk
St Edmund's Church on the Bridge
Duryard Estate
Most recent 8th February 2016
Quick Links
A family at Keepers Lodge, Exwick, probably in the 1900s.
Freddie Garrity of Freddie and the Dreamers photographed at the ABC in the early 1960s. Photo © the late Frank Mallett.
Loading

Forum and contact EMail
Buy Books and Downloads
New - Exeter Pubs by David Cornforth. Also explore the British Newspaper Archive for free. Help fund Exeter Memories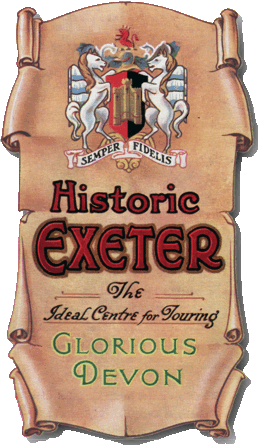 This graphic appeared on the rear of the official Exeter City Council guidebooks for about 15 years, from the 1920s to 1942.
This site currently contains 1,000 pages and more than 8,200 images.
Featured Photos
A steam driven removal lorry and trailer for G H German who were based in Church Road, St Thomas. Before reliable petrol and diesel engines, steam was often used for heavy vehicles.
Repairing the road at Church Road, Alphington. In the background is Mile End Cottage that Charles Dickens rented for his parents in 1839. The railway bridge over the road for the Teign Valley line is on the extreme right. Photo courtesy Aubone Braddon.
One hundred years ago – FEBRUARY 1916
also see 1913, 1914 , 1915 & 1916
The Week in Exeter
The price of the 4lb. loaf has, in Exeter, been raised to 8½d.
A valuable gift to,the V.A.D. at Exeter is being made by the employees of the nWestern District of the L and S.W.R., through Mr Hoyle, the Superintendent for the district. They have purchased at a cost of £40 a Trailby motor trailer for use for serious cases. The trailer can be attached to an ordinary motor, and it has the advantage of being suitable for the conveyance of stretcher and the cases.
Western Times - Friday 04 February 1916
EXETER SCHOOL GIRLS
Send Valentine Packets for Tommies to Mayoress's Depot
"All ranks of the ——— London Cyclists Battalion," runs a wire received at the Mayoress of Exeter's Depot yesterday, "tender their grateful thanks and appreciation to you and your helpers for your hospitality this morning.—Lieut.-Col. Arthur Churchill, Commanding."
Western Times - Friday 04 February 1916
Banana Skin Causes Accident at Exeter
On Saturday evening Mrs. Helen Hern, 60. married, slipped on a banana skin the the footpath in Summerland-street, just below Belgrave-road, Exeter. She was removed to her home at 30, Codrington-street and put to bed. Yesterday morning, as she was in great pain, a doctor was called, and it was found that one of her thighs was fractured. She was removed to the Royal Devon and Exeter Hospital.
Western Times - Friday 07 February 1916
Improved Demand tor Horses in Exeter
Eighty-four horses were offered for sale by auction at Messrs. Colling's Horse Repository at Exeter, Friday. There was an improved demand for all classes of horses, and good prices were realised. Eighteen lots were drafts from His Majesty's Remount Department. A brown pony gelding, the property Mr. J. C. Lamacraft of the Coach and Horses Inn, Exeter, fetched 34 guineas.
Western Times - Friday 08 February 1916
Police dog
The Exeter police, the Chief tells us, have an Airedale dog—a dog, we presume, which has a "bite" as well as a bark.
Street accidents
There have been, during the year, 104 street accidents more or less serious nature. A number of these, we are told, were due to sheer carelessness on the part of pedestrians.
The police, on 90 such occasions, were able to render first aid. It should always be a consoling thought to Exeter people as they cross the streets through heavy traffic, that members of the police Force hold certificates of the St. John Ambulance Association, and 37 the medallion.
Hats off to Master Bobby!
Western Times - Thursday 17 February 1916
Alarm of Fire at Exeter
Exeter Fire Brigade and the City Police were called to Queen-street Station yard last evening. An oil lamp in the office of Mr. Bowden, coal merchant, had burst and caused a mass of flame, which, however, was extinguished before serious damage was done.
Western Times - Thursday 17 February 1916

The Exeter
'Comment'

from Exeter Memories

This site is run by a resident of who loves the city
Exeter Pubs by David Cornforth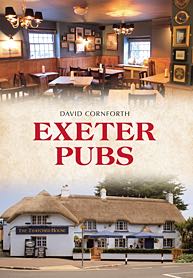 Over the past few centuries, nearly 500 pubs have opened their doors in Exeter. While many have been lost due to time, money or misfortune, the stories and memories created in these 'locals' live on. Exeter Pubs offers a captivating glimpse into the history of some of Exeter's most famous pubs. Drawing upon an eclectic collection of photographs, David Cornforth presents the reader with an insight into the history and life of the pubs in this area. From pub dogs to landlords, famous visitors to suspicious fires, this book tells the stories of Exeter's numerous watering holes. Just like countless travellers over the centuries, the modern reader is encouraged to stop for a pint in each and continue the stories of these historic establishments. Well-researched and beautifully illustrated, Exeter Pubs provides something for everyone, whether they have lived in Exeter all their lives, or whether they are just visiting this vibrant town. Available from Amazon Exeter Pubs (Amberley Pub)
Exeter City go to Argentina
It was a hundred years ago that Exeter City went to Argentina to teach the locals something about football. On the 22 May 1914, the team, along with team officials and WAGS (yep, that's right or maybe they were wives of officials, and they sure wore bonny hats!) left Exeter Queen Street station for Southampton, for a boat to Argentina.See photo on this page May 1914. In July 1914 they had the honour of playing the Brazil national side, losing 2-0, when they toured South America.
Exeter Memories on Facebook and Twitter
Exeter Memories has a Page and a Group on Facebook. The group is for people to swap memories of living in the city – at the moment, the 1960s and 70s are very popular. You can also follow #ExeterMemories on Twitter, where the latest pages are promoted and events that happened on the day are linked.
Historic Buildings of Exeter - iBook for your iPad
Published on the 1 December 2012 is the Exeter Memories iBook Historic Buildings of Exeter. Liberally illustrated with full screen photographs, illustartions and maps, the interactive book covers fourteen of Exeter's most loved buildings. The photos look stunning on the Retina display of the iPad 3, while the new iPad Mini is a convenient way to view the book. If you have an iPAd and love Exeter, this is the eBook for you. Moderately priced at £2.49, the book is available from iTunes here - Historic Buildings of Exeter - David Cornforth
Downloads to Support Exeter Memories
Exeter Memories has never had any Google ads, nor any other form of income generation. To help finance the hosting of the site I have added three downloads, that can be purchased for £2 each. Click on the PURCHASE button on any page to see the downloads. There is the choice of seven large sized, hi-res map files of the city, or two eBooks — Charles Worthy's The History of the Suburbs of Exeter and the charming James Cossins' Reminiscences of Exeter Fifty Years Since. Both books can be purchased in ePub (Sony, Nook etc) format or Kindle format Screen readers can also be downloaded for your computer - see free Adobe Reader. Please support Exeter Memories by purchasing a download.
That's all for now,
David Cornforth - My Contact E-Mail