1,000 pages, 8,200 photos

Historic film, video and sound
New Pages
Earliest
Exeter's Pram and Toy Shop
Acland Arms Hotel
The Barnstaple Inn
Princess Alexandra + 'Baby Farmer' murder
Sludge vessel MV Countess Wear
Cellars on the Quay
The Goldsmith Street Arcade–J H Newman
Palace Gate–the Gate
Bear Gate
St Martin's Gate
Little Stile
Catherine Gate
18 Cathedral Yard-The Mansion House
Exeter's Great Conduit
A passage to India from Exeter
Latest 26th February 2017
Updated Pages
Pinder and Tuckwell
The Riverside Leisure Centre
1917 Tram Crash
Exe Island Mission Hall
HMS Exeter River Plate Crew List
Gene Kemp, children's author
Thatched House, Exwick
Newspapers–April 1917
Devon's last duel
London Inn Square
South Street
Westgate Festival Mural
St Sidwell Wall Artwork
Most recent 23rd April 2017
Quick Links
Exeter Corporation Tramways Employee No 26.
Goog Hoskins, the well known Exeter Falcons rider. See Falcons Riders
Tip – use Search or Site Map
Loading
Join the Exeter Memories
Group Page

Forum and contact EMail
Free Download plus Buy Books and Downloads
New - Exeter Pubs by David Cornforth. Also explore the British Newspaper Archive for free. Help fund Exeter Memories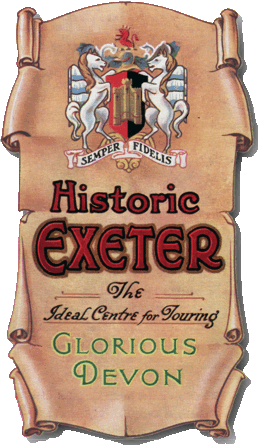 This graphic appeared on the rear of the official Exeter City Council guidebooks for about 15 years, from the 1920s to 1942.
This site currently contains 1,000 pages and more than 8,200 images.
Historic photos
The Exeter Rowing Club boat, Semper Fidelis collided with the Bideford boat, and sank, at the 1907 Exeter Regatta.
The Exeter Swimming Club at Head Weir 1927.
One hundred years ago – April 1917
See more 1913, 1914, 1915, 1916 and 1917
Railway Station closed
St Thomas Railway Station, Exeter, was yesterday closed for the duration of the war.
Exeter and Plymouth Gazette - Tuesday 03 April 1917
Wonford Mother Fined for Giving Her Children Beer
The wife of a Territorial, Sarah Eveleigh. of Wonford-street. Wonford, was summoned at Exeter, yesterday, for giving intoxicating liquor to a child, aged four, on March 26th. She was also summoned for giving beer and stout to another child, aged three, on the same day.—The Chief Constable said that acting-Inspector Snell saw defendant in a passage-way of the Royal Oak Inn, at Heavitree. Her two little girls, aged three and four, were playing near by, and she called them and let them drink from a glass of beer and stout. When spoken to she told Inspector they would have cried if they not been given a drink. The Chief added that he should be satisfied with a conviction in one case.—Defendant now told the Magistrates that she acted unthinkingly —She was fined 10s.
Western Times - Wednesday 04 April 1917
Friday is America Day.
I hope Exeter will not be behind hand in honouring it, if only making a good display of flags in the public streets. A great service of Dedication is to be held at St. Paul's Cathedral, London, which will be attended by the King and Queen and other members of the Royal Family. The Stars and Stripes will be flown together in a good many cities and towns of the United Kingdom, and I hope the citizens of the city historical city of Exeter will fall into line. The entrance of America into the war is a matter of supreme importance and interest to this country. We should lose no opportunity of showing our cousins across the Atlantic how delighted we are to claim them Allies in the great struggle which is now going forward.
Exeter and Plymouth Gazette - Wednesday 18 April 1917
Wounded at Jutland
Wounded in the battle of Jutland and discharged from the Navy after 3½ years' service, George T. H. Elsworthy, 21, laundry worker, 6, Commins Buildings, Wonford, was at Exeter Police, yesterday, fined 5s for being drunk in Fore-street, Heavitree. The bench referred to his service record, and he promised to be more careful in future.—P.C. Bishop gave evidence.
Western Times - Friday 20 April 1917
VENERIAL DISEASE
New Department at the Royal D. and E. Hospital
The President moved that the Governors confirm the action of the Weekly Committee in deciding to open a department at the Hospital for the treatment of venereal disease in accordance with a request from the Local Government Board. He said the scheme had been carefully prepared, and it was proposed to obtain the sanction of the Local Government Board with a view to its being put into operation as soon as circumstances permitted. The expenditure would be borne by the Local Government Board. (more on the 1917 page)
Western Times - Friday 27 April 1917

The Exeter
'Comment'

from Exeter Memories

This site is run by a resident of who loves the city
Exeter Pubs by David Cornforth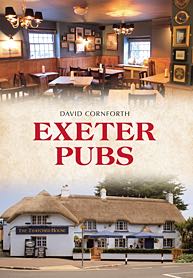 Over the past few centuries, nearly 500 pubs have opened their doors in Exeter. While many have been lost due to time, money or misfortune, the stories and memories created in these 'locals' live on. Exeter Pubs offers a captivating glimpse into the history of some of Exeter's most famous pubs. Drawing upon an eclectic collection of photographs, David Cornforth presents the reader with an insight into the history and life of the pubs in this area. From pub dogs to landlords, famous visitors to suspicious fires, this book tells the stories of Exeter's numerous watering holes. Just like countless travellers over the centuries, the modern reader is encouraged to stop for a pint in each and continue the stories of these historic establishments. Well-researched and beautifully illustrated, Exeter Pubs provides something for everyone, whether they have lived in Exeter all their lives, or whether they are just visiting this vibrant town. Available from Amazon Exeter Pubs (Amberley Pub)
Exeter City go to Argentina
It was a hundred years ago that Exeter City went to Argentina to teach the locals something about football. On the 22 May 1914, the team, along with team officials and WAGS (yep, that's right or maybe they were wives of officials, and they sure wore bonny hats!) left Exeter Queen Street station for Southampton, for a boat to Argentina.See photo on this page May 1914. In July 1914 they had the honour of playing the Brazil national side, losing 2-0, when they toured South America.
Exeter Memories on Facebook and Twitter
Exeter Memories has a Page and a Group on Facebook. The group is for people to swap memories of living in the city – at the moment, the 1960s and 70s are very popular. You can also follow #ExeterMemories on Twitter, where the latest pages are promoted and events that happened on the day are linked.
Historic Buildings of Exeter - iBook for your iPad
Published on the 1 December 2012 is the Exeter Memories iBook Historic Buildings of Exeter. Liberally illustrated with full screen photographs, illustartions and maps, the interactive book covers fourteen of Exeter's most loved buildings. The photos look stunning on the Retina display of the iPad 3, while the new iPad Mini is a convenient way to view the book. If you have an iPAd and love Exeter, this is the eBook for you. Moderately priced at £2.49, the book is available from iTunes here - Historic Buildings of Exeter - David Cornforth
Downloads to Support Exeter Memories
Exeter Memories has never had any Google ads, nor any other form of income generation. To help finance the hosting of the site I have added three downloads, that can be purchased for £2 each. Click on the PURCHASE button on any page to see the downloads. There is the choice of seven large sized, hi-res map files of the city, or two eBooks — Charles Worthy's The History of the Suburbs of Exeter and the charming James Cossins' Reminiscences of Exeter Fifty Years Since. Both books can be purchased in ePub (Sony, Nook etc) format or Kindle format Screen readers can also be downloaded for your computer - see free Adobe Reader. Please support Exeter Memories by purchasing a download.
That's all for now,
David Cornforth - My Contact E-Mail