1,000 pages, 8,000 photos

Historic film, video and sound
New Pages
Earliest
Memories of the sewage works
Larkbeare House–Judges Lodgings
Exeter Lime Kilns
Countess Wear Paper Mill
Exeter's Sea Cadets - a history
Southernhay Church
Southernhay Bath House
Model of HMS Exeter
Exeter's Air Cadets - a history
Church of the Blessed Sacrament
St Loyes Chapel
Princesshay Commemorative Feature
Mosley and the Fascists in Exeter
Lant's Almshouses
Latest 26th November 2015
Updated Pages
St George's Church, South Street
'This Jewel' blitz poem
HMS Exeter Crew List
St Mary Major Church
London Inn Square
Devonport Inn
Holy Trinity Church
Well House, Cathedral Yard
Methodist Church, Sidwell Street
8 & 9 Cathedral Close
Volunteer Force Memorial
Eastgate
Topsham Road Bridge
Exeter Phoenix in Princesshay
Higher Market with extra photos
Public Subscription Rooms
Most recent 23rd November 2015
Quick Links
What is believed to be one of the City Police Force's earliest dogs, Sandy, with his handler PC Charlie Bullen.
Freddie Garrity of Freddie and the Dreamers photographed at the ABC in the early 1960s. Photo © the late Frank Mallett.
Loading

Forum and contact EMail
Buy Books and Downloads
New - Exeter Pubs by David Cornforth. Also explore the British Newspaper Archive for free. Help fund Exeter Memories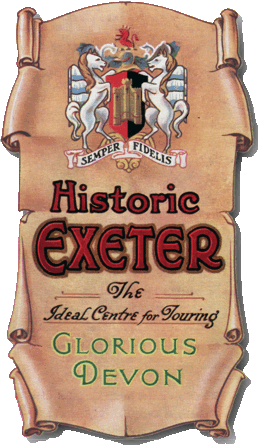 This graphic appeared on the rear of the official Exeter City Council guidebooks for about 15 years, from the 1920s to 1942.
This site currently contains 1,000 pages and more than 8,200 images.
Featured Photos
The newly constructed roundabout at Blackboy Road in 1963. Debenhams (John Lewis) is in the process of construction. Notice the temporary buildings on the left of the roundabout, and the new construction.
Salmon nets hanging out to dry at Topsham in 1961.
One hundred years ago this NOVEMBER
This Month in Exeter - 1915 also see 1913 and 1914
EXETER HERO Story of How He Captured German Guns OFFICER'S GRAPHIC LETTER
"So fell a brave man" writes his Commanding Officer, in a letter in which he advises Mrs. Northam, of Cheeke-street, Exeter, of the death of her son. Sergeant R. Northam, " killed in action" in France on September 25th. Lieut. Sheepshanks (of Chudleigh), O.C. "D" Co., 8th Devons, , who deserves especial thanks of all for his very kindly letters to bereaved folks at home, in the course of his letter to Mrs. Northam says: "That day this Regiment was ordered to attack the German trenches, some 300 yards from where his Company was in our trenches, and your son's Company, 'A' (in which I now am, and was during the great fight, along with the other Companies) led the attack through a terrific hail of sheds, machine gun and rifle fire... (continued in link above)
Western Times - Monday 02 November 1915
WHAT A BOON!
An Officer on Exeter's Hospitable Welcome
TO ALL TROOPS
In regard to the thousand Christmas puddings which the Mayoress of Exeter has ordered for despatch through the Depot to the Devons and the men of the 24th Field Ambulance at the Front, it should perhaps be mentioned that half of them are 1lb. puddings and half 2lbs. in weight. As mentioned yesterday, the thousand will be enough to enable each man of the Devons and 24th Field Ambulance (the latter mostly Exonians) to have a piece of Christmas pudding each.
Western Times - Wednesday 17 November 1915
CITY POLICE.
Travelling Without a Ticket on the G.W.R.
SOLDIERS IN TROUBLE
Attached to the trawler section of the Royal Navy, Thomas Christie appeared at the Exeter Police Court yesterday, before Messrs. A. McCrea (chairman), F. J. Widgery, H. Hall, and H. J. Munro, charged with travelling on Great Western Railway on Saturday without having previously paid his fare.—The Chief Constable (Mr. Nicholson) explained that defendant was found in a train at St. David's Station. He had no ticket but a pass granting leave until Monday. He had no money, but said he wanted to go to Chorley. The railway officials offered to take him back to Plymouth, but would not consent to this. The Company were now willing to withdraw the charge if defendant was handed over to the military authorities.—Defendant said he wanted to go home to Chorley to see his parents. He had money at home and would have paid his fare when he got there.—The Bench directed that defendant should be handed over to an escort.
Western Times - Tuesday 23 November 1915

The Exeter
'Comment'

from Exeter Memories

This site is run by a resident of who loves the city
Exeter Pubs by David Cornforth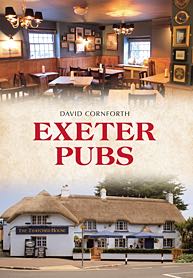 Over the past few centuries, nearly 500 pubs have opened their doors in Exeter. While many have been lost due to time, money or misfortune, the stories and memories created in these 'locals' live on. Exeter Pubs offers a captivating glimpse into the history of some of Exeter's most famous pubs. Drawing upon an eclectic collection of photographs, David Cornforth presents the reader with an insight into the history and life of the pubs in this area. From pub dogs to landlords, famous visitors to suspicious fires, this book tells the stories of Exeter's numerous watering holes. Just like countless travellers over the centuries, the modern reader is encouraged to stop for a pint in each and continue the stories of these historic establishments. Well-researched and beautifully illustrated, Exeter Pubs provides something for everyone, whether they have lived in Exeter all their lives, or whether they are just visiting this vibrant town. Available from Amazon Exeter Pubs (Amberley Pub)
Exeter City go to Argentina
It was a hundred years ago that Exeter City went to Argentina to teach the locals something about football. On the 22 May 1914, the team, along with team officials and WAGS (yep, that's right or maybe they were wives of officials, and they sure wore bonny hats!) left Exeter Queen Street station for Southampton, for a boat to Argentina.See photo on this page May 1914. In July 1914 they had the honour of playing the Brazil national side, losing 2-0, when they toured South America.
Exeter Memories on Facebook and Twitter
Exeter Memories has a Page and a Group on Facebook. The group is for people to swap memories of living in the city – at the moment, the 1960s and 70s are very popular. You can also follow #ExeterMemories on Twitter, where the latest pages are promoted and events that happened on the day are linked.
Historic Buildings of Exeter - iBook for your iPad
Published on the 1 December 2012 is the Exeter Memories iBook Historic Buildings of Exeter. Liberally illustrated with full screen photographs, illustartions and maps, the interactive book covers fourteen of Exeter's most loved buildings. The photos look stunning on the Retina display of the iPad 3, while the new iPad Mini is a convenient way to view the book. If you have an iPAd and love Exeter, this is the eBook for you. Moderately priced at £2.49, the book is available from iTunes here - Historic Buildings of Exeter - David Cornforth
Downloads to Support Exeter Memories
Exeter Memories has never had any Google ads, nor any other form of income generation. To help finance the hosting of the site I have added three downloads, that can be purchased for £2 each. Click on the PURCHASE button on any page to see the downloads. There is the choice of seven large sized, hi-res map files of the city, or two eBooks — Charles Worthy's The History of the Suburbs of Exeter and the charming James Cossins' Reminiscences of Exeter Fifty Years Since. Both books can be purchased in ePub (Sony, Nook etc) format or Kindle format Screen readers can also be downloaded for your computer - see free Adobe Reader. Please support Exeter Memories by purchasing a download.
That's all for now,
David Cornforth - My Contact E-Mail