1,000 pages, 8,200 photos

Historic film, video and sound
Page of the Week
The City Workhouse (Heavitree)
New Pages
Earliest
Bedford Chapel
College Kitchen/Bear Inn/Exonia Vaults
Colourful Innkeepers of Exeter
Marks & Spencer in Exeter
Bradninch Hall aka The Vineyard
Maps of the City of Exeter
Surviving a bomb in a Morrison Shelter
Latest 26th May 2019
Updated Pages
St Pancras Church new photos & text
Maritime Museum new photos & text
William Pett, Fire Chief new photos
Bampfylde Street photos and text
Baring Crescent photos
Welcome Inn/Cafe new photo
HMS Exeter crew member
Orthpaedic Hospital new photos
Most recent 20th August 2019
Quick Links
Harry Weslake, automobile engineer.
John Rowe, American Revolutionary
Tip – use Search or Site Map
Join the Exeter Memories
Group Page
Contact EMail
Buy Exeter Books Here
New - Exeter Pubs by David Cornforth. Also explore the British Newspaper Archive for free. Help fund Exeter Memories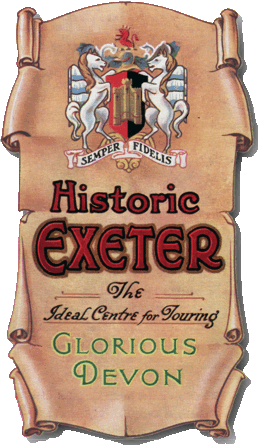 This graphic appeared on the rear of the official Exeter City Council guidebooks for about 15 years, from the 1920s to 1942.
Historic photos
The YWCA at Dixs Field in Edwardian times.
A tram crosses the Exe Bridge towards Fore Street.
One hundred years ago – August 1919
See more 1913, 1914, 1915, 1916, 1917, 1918, 1919
Man of Ninety-Eight Wins a Sprint at Wonford
An interesting event in the programme of sports at Wonford Monday was the 55 yards' race for old men, the winner, A. Evans, being 98 years age. The second and third in the race were Merrith and Lake (68).
Western Times - Friday 08 August 1919
No rear light
At Exeter Police-court, yesterday, Howard Varley, Ebrington Lodge, Alphington-road, was summoned for riding a bicycle in Sidwell-street without a red rear light. Defendant was stopped by two constables in different parts of the city the same night riding without a red rear light. A fine of 7s 6d was imposed. Charles William Palmer, 34, Exwick-road, was summoned for allowing an unmuzzled dog to be in St. Andrew's-road on the 3rd inst. A fine of £1 was imposed.
Exeter and Plymouth Gazette - Saturday 09 August 1919
EXETER CITY
Team to Meet Southampton in the Opening Match
The team to represent Exeter City in the opening match against Southampton at the Dell on Saturday has been selected as follows : Colebourne, Strettle; Rigby (captain), Popplewell, Mitton; Connor, Makin, Goodwin, Loveet, Dockray. The kick-off is timed for 3.30 o'clock, and the match will be refereed by C. W. Gillett of London.
The City team will leave Queen-street Station at 10.15 on Saturday morning for Salisbury, whence they will proceed to Southampton in motor cars. They will return in the same way in the evening, and are due to arrive at Exeter at 10.30 p.m. Mr. . Arthur Chadwick will accompany the team, and it is hoped, Mr. M. J. MvGahey.
Western Times - Wednesday 27 August 1919
EXONIAN'S DEATH
Hurrying Up Causes Heart Failure
The Exeter Coroner, Mr. W. Brown, held an inquest yesterday on Andrew Seaton Craig, aged 60, draper, of Cowick-street, who died suddenly at St. Thomas's Station on Thursday after hurrying up the station steps to catch a train. Dr. Black said deceased suffered from diabetes and a weak heart. In this condition his hurrying up the steps would cause syncope. A verdict "Death from natural causes" was returned.
Western Times - Saturday 30 August 1919

The Exeter
'Comment'

from Exeter Memories

This site is run by a resident of who loves the city
Exeter Dissenters Graveyard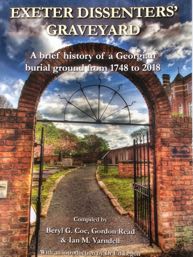 This Booklet, published in June 2018, by the Exeter Dissenters Graveyard Trust contains a brief history of dissent in Exeter, information about some of the people buried in the graveyard and their families. Also covered is the graveyard's physical aspects and the restorative work undertaken by the trustees and many volunteers.  There are numerous coloured photos and a loose plan of the graveyard showing the first named person on each memorial where this has been possible. Available from www.edgt.org.uk
Exeter Pubs by David Cornforth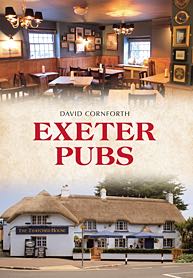 Over the past few centuries, nearly 500 pubs have opened their doors in Exeter. While many have been lost due to time, money or misfortune, the stories and memories created in these 'locals' live on. Exeter Pubs offers a captivating glimpse into the history of some of Exeter's most famous pubs. Drawing upon an eclectic collection of photographs, David Cornforth presents the reader with an insight into the history and life of the pubs in this area. From pub dogs to landlords, famous visitors to suspicious fires, this book tells the stories of Exeter's numerous watering holes. Just like countless travellers over the centuries, the modern reader is encouraged to stop for a pint in each and continue the stories of these historic establishments. Well-researched and beautifully illustrated, Exeter Pubs provides something for everyone, whether they have lived in Exeter all their lives, or whether they are just visiting this vibrant town. Available from Amazon Exeter Pubs (Amberley Pub)
Exeter Memories on Facebook and Twitter
Exeter Memories has a Page and a Group on Facebook. The group is for people to swap memories of living in the city – at the moment, the 1960s and 70s are very popular. You can also follow #ExeterMemories on Twitter, where the latest pages are promoted and events that happened on the day are linked.
Historic Buildings of Exeter - iBook for your iPad
Published on the 1 December 2012 is the Exeter Memories iBook Historic Buildings of Exeter. Liberally illustrated with full screen photographs, illustartions and maps, the interactive book covers fourteen of Exeter's most loved buildings. The photos look stunning on the Retina display of the iPad 3, while the new iPad Mini is a convenient way to view the book. If you have an iPAd and love Exeter, this is the eBook for you. Moderately priced at £2.49, the book is available from iTunes here - Historic Buildings of Exeter - David Cornforth
That's all for now,
David Cornforth - My Contact E-Mail