1,000 pages, 8,200 photos

Historic film, video and sound
New Pages
Earliest
The Barnstaple Inn
Princess Alexandra + 'Baby Farmer' murder
Sludge vessel MV Countess Wear
Cellars on the Quay
The Goldsmith Street Arcade–J H Newman
Palace Gate–the Gate
Bear Gate
St Martin's Gate
Little Stile
Catherine Gate
18 Cathedral Yard-The Mansion House
Exeter's Great Conduit
A passage to India from Exeter
St Matthews Church, Newtown
Was Royal Clarence the first hotel?
Latest 22nd June 2017
Updated Pages
St Paul's Church
Friernhay Street
Bishop Blaize Pub
Colsons or Dingles
Waterbeer Street
Myths and Legends of Exeter
Exeter's Electricity Generating Station
Catacombs and Lower Cemetery
Paris Street
Exeter and Crediton Canal
Sir Thomas Dyke Acland Statue
Deer Stalker Statue
Mary of Exeter Mosaic–St Thomas
Most recent 20th August 2017
Quick Links
Exeter Corporation Tramways Employee No 26.
Goog Hoskins, the well known Exeter Falcons rider. See Falcons Riders
Tip – use Search or Site Map
Loading
Join the Exeter Memories
Group Page
Contact EMail
Free Download plus Buy Books and Downloads
New - Exeter Pubs by David Cornforth. Also explore the British Newspaper Archive for free. Help fund Exeter Memories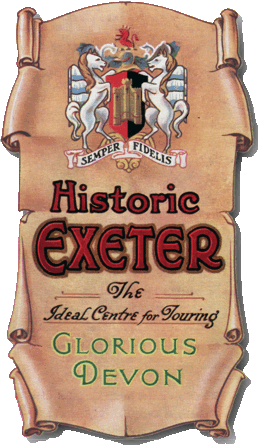 This graphic appeared on the rear of the official Exeter City Council guidebooks for about 15 years, from the 1920s to 1942.
This site currently contains 1,000 pages and more than 8,200 images.
Historic photos
St Sidwell's Church and churchyard in the 1930s. All the uprigt graves have been removed.
George's Market in 1967.
One hundred years ago – August 1917
See more 1913, 1914, 1915, 1916 and 1917
Military Medal for an Exonian.
The military medal has been awarded to Sergt. F. E. Gorfin, of 10, Alpha-street, Heavitree. No. 4649 Sergt. Joseph Edward Gorfin, Devonshire Regiment, now at Salonika, was sergeant of No. 8 Platoon until his company sergeant-major was killed, when he took over the duties of C.S.M...
Western Times - Saturday 11 August 1917
TOMMY WITH THE ROD.
Results of Angling Competition at Exwick
Sixty or so wounded from the Exeter V.A.O. hospitals took part in an angling competition at Exwick Mills on Saturday. It was the most novel event yet arranged locally for the entertainment of the wounded, and credit for its promotion goes to the Exeter Angling Society, and to Mr. F. Sellick, St. Sidwell's, in particular.
As a matter of fact, the whole idea sprang from a request made by wounded men recently to the Mayoress's Depot. They happened to be keen anglers, and they wrote asking if the public of Exeter would provide them with rods and lines...
Plucky Exeter Constable Stops Runaway Pony.
About 6.15 last evening a pony attached to a trap belonging to Mr. Baker, of the Coach and Horses Inn, Sidwell-street, Exeter, and in charge of John Fletcher, Causeway's Court, Sidwell-street, was frightened by a heavy clap of thunder while standing in Longbrook-street. The pony, which had been momentarily left by the driver, who had business to do in a shop, dashed up Longbrook-street a very fast pace and came into London Inn Square...
Western Times - Wednesday 15 August 1917
When Not to Ask a Policeman
At Exeter Police Court yesterday, Charles W. Lawe, of Clydach. Glamorgan, was summoned for riding a motor-cycle in High-street which had not two independent brakes. He stopped a police sergeant at the corner of Queen-street to enquire the way to Okehampton, and the officer then told him he would he reported for not having a front brake. He explained its absence stating that he had had an accident coming down from Wales. There were previous conviction for motor-cycle offences, and the fine was 15s —The magistrates present were Messrs. H. Hall (in the chair). J. Stocker. and J. D. Harris.
Western Times - Saturday 18 August 1917
St. Thomas Board, of Guardians.
At the meeting of St. Thomas Guardians yesterday, Miss Harris, of Budleigh Salterton was appointed attendant on the feebleminded.
A letter was read from the Clerk to the Devon County Asylum stating that the cost of maintenance of lunatics would be 14s a week as from August 1st. 1917.—The Chairman, Preb Buckingham, said that brought Digby and Exminster to the same level. Hitherto Exminster had always been below Digbys. Some little time ago Exminster was only 9s. 6d.—Mr. Courtney said the increase was quite injustifiable having regard to the general rise in price.
Western Times - Saturday 25 August 1917

The Exeter
'Comment'

from Exeter Memories

This site is run by a resident of who loves the city
Exeter Pubs by David Cornforth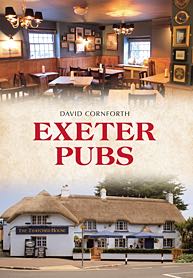 Over the past few centuries, nearly 500 pubs have opened their doors in Exeter. While many have been lost due to time, money or misfortune, the stories and memories created in these 'locals' live on. Exeter Pubs offers a captivating glimpse into the history of some of Exeter's most famous pubs. Drawing upon an eclectic collection of photographs, David Cornforth presents the reader with an insight into the history and life of the pubs in this area. From pub dogs to landlords, famous visitors to suspicious fires, this book tells the stories of Exeter's numerous watering holes. Just like countless travellers over the centuries, the modern reader is encouraged to stop for a pint in each and continue the stories of these historic establishments. Well-researched and beautifully illustrated, Exeter Pubs provides something for everyone, whether they have lived in Exeter all their lives, or whether they are just visiting this vibrant town. Available from Amazon Exeter Pubs (Amberley Pub)
Exeter Memories on Facebook and Twitter
Exeter Memories has a Page and a Group on Facebook. The group is for people to swap memories of living in the city – at the moment, the 1960s and 70s are very popular. You can also follow #ExeterMemories on Twitter, where the latest pages are promoted and events that happened on the day are linked.
Historic Buildings of Exeter - iBook for your iPad
Published on the 1 December 2012 is the Exeter Memories iBook Historic Buildings of Exeter. Liberally illustrated with full screen photographs, illustartions and maps, the interactive book covers fourteen of Exeter's most loved buildings. The photos look stunning on the Retina display of the iPad 3, while the new iPad Mini is a convenient way to view the book. If you have an iPAd and love Exeter, this is the eBook for you. Moderately priced at £2.49, the book is available from iTunes here - Historic Buildings of Exeter - David Cornforth
Downloads to Support Exeter Memories
Exeter Memories has never had any Google ads, nor any other form of income generation. To help finance the hosting of the site I have added three downloads, that can be purchased for £2 each. Click on the PURCHASE button on any page to see the downloads. There is the choice of seven large sized, hi-res map files of the city, or two eBooks — Charles Worthy's The History of the Suburbs of Exeter and the charming James Cossins' Reminiscences of Exeter Fifty Years Since. Both books can be purchased in ePub (Sony, Nook etc) format or Kindle format Screen readers can also be downloaded for your computer - see free Adobe Reader. Please support Exeter Memories by purchasing a download.
That's all for now,
David Cornforth - My Contact E-Mail