1,000 pages, 8,000 photos

Historic film, video and sound
New Pages
Earliest
Church of the Blessed Sacrament
St Loyes Chapel
Princesshay Commemorative Feature
Mosley and the Fascists in Exeter
Lant's Almshouses
Information Bureau - Visitor Centre
The City Library
Heavitree Evangelical Church
Heavitree United Reformed Church
Castle Street Chapel
The Timepiece
Devon High Gaol
Mowbray House Maternity Home
Emmanuel Church, St Thomas
Lloyds Tobacco Co
Latest 18th May 2016
Updated Pages
Exwick Mill - new photos
The Angel
Guinea Street
Bear Street
Group Photos of Exeter Folk
St Edmund's Church on the Bridge
Duryard Estate
Bury Meadow
Magdalen Hospital for Lepers
Great Western Hotel
Exeter's Brickworks
Royal Albert Memorial Museum (RAMM)
Wash-house West Quarter
Exeter Eye Infirmary
Most recent 26th May 2016
Quick Links
A family at Keepers Lodge, Exwick, probably in the 1900s.
Gene Pitney on the drums at the ABC Exeter. Photo © the late Frank Mallett.
Loading

Forum and contact EMail
Buy Books and Downloads
New - Exeter Pubs by David Cornforth. Also explore the British Newspaper Archive for free. Help fund Exeter Memories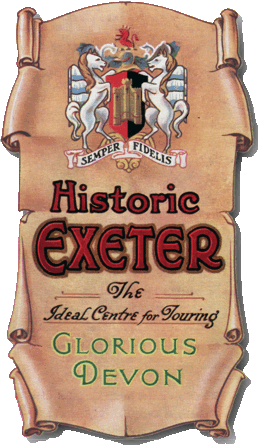 This graphic appeared on the rear of the official Exeter City Council guidebooks for about 15 years, from the 1920s to 1942.
This site currently contains 1,000 pages and more than 8,200 images.
Featured Photos
The demolition of Cowick and Alphington Street in the 1960s. Courtesy Dick Passmore.
A postcard of Princesshay showing the Commemorative Featured unveiled by Princess Elizabeth in 1949. It was removed when Princesshay was redeveloped in 2005/8.
One hundred years ago – MAY 1916
also see 1913, 1914, 1915 & 1916
Inquest on baby
An inquest was held at the Exeter Court House on Saturday relative to the death of Winifred Beatrice Phillips, aged seven weeks, daughter of a railway porter, of Woodville Cottages, Well-street. It was stated by the mother that the child was irritable after vaccination, and died on Friday.—A verdict of "Death from natural causes" was returned.
Western Times - Friday 5 May 1916
Boy Found Drowned at Heavitree
A boy named Morris White of 41, Polsloe-road, was found drowned in the pond in Sampson's Brickyard, at the back of Polsloe-road, yesterday afternoon. It seems that the lad who was about ten years of age, left home after dinner to go to school, and as he did not reach there, enquiries were made. The pond, which he had to pass on his way to school, was searched, and the body was recovered. Dr Kelly, who was called, pronounced life extinct, and the body was removed by the Heavitree police (P. S. Snell and P. C. Bishop) to the mortuary, where it awaits an inquest. The boy is the son of Mr. W. White, bootmaker, of St Sidwell's.
Western Times - Tuesday 9 May 1916
Breaking the Law Though Seeking it!
At Exeter Police Court yesterday, before Mr. A. T. Loram (Chairman). Mr. Henry Hall, Mr. H. J. Monroe, Mr. A. McCrea. and Mr. George White, Harry Shooter, of 19, Cowick-street, was summoned for obstructing the free passage of Castle-street by leaving a motorcar on the 10th May. He admitted the charge. Chief Inspector Martin said the car was left in a narrow part of the street for about forty minutes while the defendant had gone to a solicitor's office to get legal advice. Several other vehicles wanted to pass, and the motor-car had to pushed into the lane by the Castle Hotel.—Defendant now said that the person whom he asked to watch the car during his absence left as he (defendant) was detained longer than he had expected. When he arrived at the office the solicitor, who was engaged, asked him to wait, and told him the motor-car would be all right.—The Bench ordered defendant to pay the costs.
Western Times - Tuesday 16 May 1916
Light opera
Gilbert and Sullivan's Opera "Patience or Burnthorne's Bride." is being performed this week at the Theatre Royal by the Exeter Amateur Operatic Society. Reliable critics say it is one of the best things the society has ever done.
Western Times - Friday 19 May 1916
Broken leg
Mr. Robt. Andrews, aged 78, of Sanford-street, slipped on the pavement in Sidwell-street on Monday evening, and broke his right thigh.
Western Times - Friday 19 May 1916
Wasps
Signs that are abundant of a plague of wasps this year. Mr. J. Martin gardener at Fairpark, Magdalen-road, informs us that he has killed hundreds already this season. The other day he succeeded in taking a wasps nest complete. It was full of eggs and young wasps.
Western Times - Friday 26 May 1916

The Exeter
'Comment'

from Exeter Memories

This site is run by a resident of who loves the city
Exeter Pubs by David Cornforth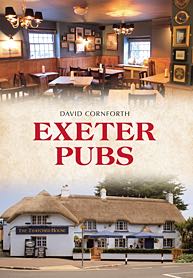 Over the past few centuries, nearly 500 pubs have opened their doors in Exeter. While many have been lost due to time, money or misfortune, the stories and memories created in these 'locals' live on. Exeter Pubs offers a captivating glimpse into the history of some of Exeter's most famous pubs. Drawing upon an eclectic collection of photographs, David Cornforth presents the reader with an insight into the history and life of the pubs in this area. From pub dogs to landlords, famous visitors to suspicious fires, this book tells the stories of Exeter's numerous watering holes. Just like countless travellers over the centuries, the modern reader is encouraged to stop for a pint in each and continue the stories of these historic establishments. Well-researched and beautifully illustrated, Exeter Pubs provides something for everyone, whether they have lived in Exeter all their lives, or whether they are just visiting this vibrant town. Available from Amazon Exeter Pubs (Amberley Pub)
Exeter City go to Argentina
It was a hundred years ago that Exeter City went to Argentina to teach the locals something about football. On the 22 May 1914, the team, along with team officials and WAGS (yep, that's right or maybe they were wives of officials, and they sure wore bonny hats!) left Exeter Queen Street station for Southampton, for a boat to Argentina.See photo on this page May 1914. In July 1914 they had the honour of playing the Brazil national side, losing 2-0, when they toured South America.
Exeter Memories on Facebook and Twitter
Exeter Memories has a Page and a Group on Facebook. The group is for people to swap memories of living in the city – at the moment, the 1960s and 70s are very popular. You can also follow #ExeterMemories on Twitter, where the latest pages are promoted and events that happened on the day are linked.
Historic Buildings of Exeter - iBook for your iPad
Published on the 1 December 2012 is the Exeter Memories iBook Historic Buildings of Exeter. Liberally illustrated with full screen photographs, illustartions and maps, the interactive book covers fourteen of Exeter's most loved buildings. The photos look stunning on the Retina display of the iPad 3, while the new iPad Mini is a convenient way to view the book. If you have an iPAd and love Exeter, this is the eBook for you. Moderately priced at £2.49, the book is available from iTunes here - Historic Buildings of Exeter - David Cornforth
Downloads to Support Exeter Memories
Exeter Memories has never had any Google ads, nor any other form of income generation. To help finance the hosting of the site I have added three downloads, that can be purchased for £2 each. Click on the PURCHASE button on any page to see the downloads. There is the choice of seven large sized, hi-res map files of the city, or two eBooks — Charles Worthy's The History of the Suburbs of Exeter and the charming James Cossins' Reminiscences of Exeter Fifty Years Since. Both books can be purchased in ePub (Sony, Nook etc) format or Kindle format Screen readers can also be downloaded for your computer - see free Adobe Reader. Please support Exeter Memories by purchasing a download.
That's all for now,
David Cornforth - My Contact E-Mail