1,000 pages, 8,200 photos

Historic film, video and sound
New Pages
Earliest
Acland Arms Hotel
The Barnstaple Inn
Princess Alexandra + 'Baby Farmer' murder
Sludge vessel MV Countess Wear
Cellars on the Quay
The Goldsmith Street Arcade–J H Newman
Palace Gate–the Gate
Bear Gate
St Martin's Gate
Little Stile
Catherine Gate
18 Cathedral Yard-The Mansion House
Exeter's Great Conduit
A passage to India from Exeter
St Matthews Church, Newtown
Latest 14th May 2017
Updated Pages
Westgate Festival Mural
St Sidwell Wall Artwork
Devon War Memorial
Newspapers–May 1917
Henry VII statue at Eastgate
Debenhams (Bobbys)
St Paul's Church
Friernhay Street
Bishop Blaize Pub
Colsons or Dingles
Waterbeer Street
Myths and Legends of Exeter
Most recent 17th May 2017
Quick Links
Exeter Corporation Tramways Employee No 26.
Goog Hoskins, the well known Exeter Falcons rider. See Falcons Riders
Tip – use Search or Site Map
Loading
Join the Exeter Memories
Group Page
Contact EMail
Free Download plus Buy Books and Downloads
New - Exeter Pubs by David Cornforth. Also explore the British Newspaper Archive for free. Help fund Exeter Memories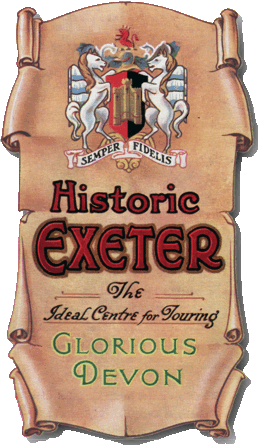 This graphic appeared on the rear of the official Exeter City Council guidebooks for about 15 years, from the 1920s to 1942.
This site currently contains 1,000 pages and more than 8,200 images.
Historic photos
The St Thomas Water Canival. A decorated boat on the river. 1912.
The railway bridge on the Barnstaple line at Cowley Bridge. The weir, diverted water into a leat for Duryard Mills. The leat has since gone.
One hundred years ago – May 1917
See more 1913, 1914, 1915, 1916 and 1917
Notes of the Day
The fisherman of Topsham are netting a large number of salmon in the Exe. A day or two since a boat secured a fish weighing 22½ pounds. The various rivers in Devonshire have run down rather low, and trout have become rather shy. Fishing in the evening, however, should be good if the present weather continues. On the Axe there has been a large batch of grannom to which fish have been moving. The Blue Upright and the Olives still account for a good-many fish, but as, with the advent of warmer weather, there is more fly on the water, the fish are rather discriminating their choice.
Exeter and Plymouth Gazette - Saturday 05 May 1917
Notes of the Day.
Households must be encouraged to sift and burn cinders, leaving only the dust to be collected. Kitchen waste, paper, etc., are now so valuable that a separate collection is desirable. Refuse might be collected at less frequent intervals. If organic waste is separately collected, or, in the last resort, burnt, there should little risk to health from a less frequent collection of the other waste. Some economy in street cleaning may also be possible, and lead to a saving of labour. Every endeavour should be used to make the different staffs of local authorities interchangeable, and to use the strong men for work for which strength is essential. By the proper classification of labour it may be found possible to make more use of men of lower physical standards, and also of women, a considerable number whom have already been employed by some local authorities.
Exeter and Plymouth Gazette - Saturday 05 May 1917
Killed and Wounded
Major Victor Walrond, Royal Field Artillery, who was killed in action on April 26, was the only son of Mr. and Mrs. A. M. H. Walrond, formerly of Pinhoe and a nephew of Lord Waleron.
Pte. James Baker of the Devons, who was killed in action in France on April 14, belonged to Exeter, where he was formerly a Carter, and resided at 9, Brunswick Place, Paris-street.
Mrs A. J. Jarvis, of Exeter, wife of Arthur James Jarvis, has been officially informed of her husband's death from disease, in Turkey, on 16 February, 1917. He was a prisoner of war from Kut.
Torpedoed
Capt. J. B. Harris, son of Mrs. Harris, of South-street, Southmolton, and grandson of Mr. J. Hinton Lake, High-street, Exeter, was returning from leave to Salonica when the boat on which he was travelling was torpedoed, and sank in a few minutes. Capt. Harris, with others, was picked up and taken to an Italian port, where every possible kindness was shown the rescued party, and the greatest respect paid by inhabitants at the funeral of the drowned. Capt. Harris is well, and at present somewhere in France trying to obtain fresh kit
Exeter and Plymouth Gazette - Friday 25 May 1917

The Exeter
'Comment'

from Exeter Memories

This site is run by a resident of who loves the city
Exeter Pubs by David Cornforth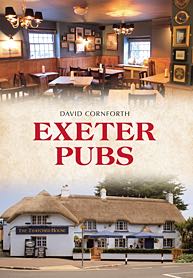 Over the past few centuries, nearly 500 pubs have opened their doors in Exeter. While many have been lost due to time, money or misfortune, the stories and memories created in these 'locals' live on. Exeter Pubs offers a captivating glimpse into the history of some of Exeter's most famous pubs. Drawing upon an eclectic collection of photographs, David Cornforth presents the reader with an insight into the history and life of the pubs in this area. From pub dogs to landlords, famous visitors to suspicious fires, this book tells the stories of Exeter's numerous watering holes. Just like countless travellers over the centuries, the modern reader is encouraged to stop for a pint in each and continue the stories of these historic establishments. Well-researched and beautifully illustrated, Exeter Pubs provides something for everyone, whether they have lived in Exeter all their lives, or whether they are just visiting this vibrant town. Available from Amazon Exeter Pubs (Amberley Pub)
Exeter City go to Argentina
It was a hundred years ago that Exeter City went to Argentina to teach the locals something about football. On the 22 May 1914, the team, along with team officials and WAGS (yep, that's right or maybe they were wives of officials, and they sure wore bonny hats!) left Exeter Queen Street station for Southampton, for a boat to Argentina.See photo on this page May 1914. In July 1914 they had the honour of playing the Brazil national side, losing 2-0, when they toured South America.
Exeter Memories on Facebook and Twitter
Exeter Memories has a Page and a Group on Facebook. The group is for people to swap memories of living in the city – at the moment, the 1960s and 70s are very popular. You can also follow #ExeterMemories on Twitter, where the latest pages are promoted and events that happened on the day are linked.
Historic Buildings of Exeter - iBook for your iPad
Published on the 1 December 2012 is the Exeter Memories iBook Historic Buildings of Exeter. Liberally illustrated with full screen photographs, illustartions and maps, the interactive book covers fourteen of Exeter's most loved buildings. The photos look stunning on the Retina display of the iPad 3, while the new iPad Mini is a convenient way to view the book. If you have an iPAd and love Exeter, this is the eBook for you. Moderately priced at £2.49, the book is available from iTunes here - Historic Buildings of Exeter - David Cornforth
Downloads to Support Exeter Memories
Exeter Memories has never had any Google ads, nor any other form of income generation. To help finance the hosting of the site I have added three downloads, that can be purchased for £2 each. Click on the PURCHASE button on any page to see the downloads. There is the choice of seven large sized, hi-res map files of the city, or two eBooks — Charles Worthy's The History of the Suburbs of Exeter and the charming James Cossins' Reminiscences of Exeter Fifty Years Since. Both books can be purchased in ePub (Sony, Nook etc) format or Kindle format Screen readers can also be downloaded for your computer - see free Adobe Reader. Please support Exeter Memories by purchasing a download.
That's all for now,
David Cornforth - My Contact E-Mail