Historic film, video and sound
New Pages
Earliest
St Thomas' Brewery
Well Park Brewery
Minor Breweries
Elephants in Exeter
The Woodbury Common Murder
History of Rediffusion in Exeter
Letter about the blitz
Aerial photos by Bertram Arden
School photos 1900-1970
Alphington Halt
Head Weir Bathing Place
The Sclater family nurseries
Gallows Bridge
DevonAir Radio
Latest 14th July 2015
Updated Pages
Countess Wear
Valiant Soldier
Bishops of Exeter
HMS Exeter – crew list
May 1915 Exeter newspapers
Exeter Mayors
Clapperbrook Lane
1940s scrapbook
Bishop Blackall School
Sacred Heart Church
Tepid Baths
Pyramids Swimming Pool
St Thomas Debtors Prison
Central Station
Taddiford House
Gallows Cross
Most recent 27th July 2015
Quick Links
Marrianne Faithful photographed in her dressing room at the ABC, Exeter, probably in February 1965 when she appeared with Roy Orbison and the Rockin' Berries.
The comedian Tony Hancock frequently performed in Exeter, both at the Theatre Royal and the Savoy/ABC. Here he poses for a photo with the manager of the ABC, Robert 'Bob' Parker, and a young woman. Circa 1962. Photo © the late Frank Mallett.
Loading

Forum and contact EMail
Buy Books and Downloads
New - Exeter Pubs by David Cornforth. Also explore the British Newspaper Archive for free. Help fund Exeter Memories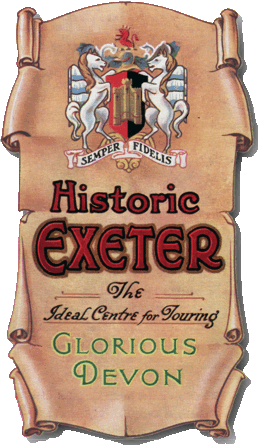 This graphic appeared on the rear of the official Exeter City Council guidebooks for about 15 years, from the 1920s to 1942.
This site currently contains 900 pages and more than 5,000 images.
Exeter Local History Society
Join the Exeter Local History Society and discover 2000 years of the history of Exeter. Learn of intrigue, plots, disasters, celebrations and the way of life of past generations of the city.
We meet six times a year in the city centre, for a chat, and a talk from an expert on a historical topic. There are also 'outside visits' with a guide to see aspects of the city's past.
Come along to a meeting without obligation - upcoming meetings can be found here
Contact E-Mail
Links to other sites
List of Sources Used
Site Map
Photos Wanted
Benefactors
Featured Photos
A group of Spitfire pilots at Exeter Airport, to remind us that this summer is the 75th Anniversary of the Battle of Britain. See Exeter Airport for its part in the war.
The Valiant Soldier on the corner of Magdalen Street and Holloway Street was built after the Civil War, replacing the Goat. It was closed in March 1962 and demolished later in the same year. See Valiant Soldier.
One hundred years ago this AUGUST
This Month in Exeter - 1915 also see 1913 and 1914
Accident to an Exeter Wagoner
A serious accident befell a wagoner, named James Bishop, in the employ of Mr. W. R. Mallett, miller, of Exwick Mills, Exeter, last evening. The man. who is about 60 years of age, and lives at St. Andrews-road Exwick, was returning from a journey with three horses and a wagon, when, owing to one of the animals stumbling, the driver was thrown off the wagon and sustained severe injuries, including a fracture of the left leg, a bad cut on the head, and abrasions of the hands. He was conveyed by Mr. Trimble in a motor-car to the Royal Devon and Exeter Hospital, where, after receiving attention, he was detained.
Western Times - Thursday 05 August 1915
EXETER
ROLLER FATALITY,
INQUEST LAST EVENING
Three City Coroner (Mr W Linford Brown) held an inquest at the Police Station, Exeter, last evening, relative to the death of Edward Frederick Fowler, a labourer, in the employ of the council, through being knocked down by a steam-roller on Thursday.
Mr A. E. Avery, fitter, of 12, Cowick Road, identified the body is that of his father-in-law. He had never known deceased to faint or have fits. He was employed by the council as a general labourer.
The wife of the deceased said a husband was 55 years old. His health was very good, have you had no doctor for 20 years. He went to his work about six. 10 on Thursday morning and was all right then.
Arthur Downey, of the V.A.O., 29, West-street, said he was outside his door at 8.15 on that morning in question, and he saw the roller go by, and deceased on the right side of it by the front wheel. The engine was going very slowly, with a lorry attached. Deceased passed, just after someone called out, and he saw deceased on the ground, the engine having pulled up. Deceased was about six feet in front of the engine when witness first saw him. He saw no horse passing at the time...…continued here
Exeter and Plymouth Gazette - Saturday 14 August 1915
Drunk and disorderly
Driver E. Nicholls, of the R.F.A., and Driver F T. Harman, of the R.F.A., were charged with being drunk and disorderly in Sidwell-street on Friday. They admitted being drunk, but denied the disorder—P.C. Heale described their language as very bad. They had previously been cautioned by a constable in the High-street.—Defendants were each fined 5s.
Western Times - Monday 16 August 1915
MUNITION MAKING
Factory To Be Started in Exeter Without Delay
Since the meeting held in the Guildlhall on the 29th of June, which was addressed by Mr. P. K. Stottert, the Chairman of the West of England Munition Committee, careful consideration has been given to the best method to be adopted by the City of Exeter for the output of munitions war. A hope was entertained that the Ministry of Munitions might possibly see its way to establish a national factory the city, but this was found to be impracticable for reasons which seemed good for the Government. It was then suggested by the Ministry of Munitions that two courses were open to those interested this all important work for Exeter, the one was that the owners of machine tools should send these to one of the existing national factories, and the other was that sufficient capital should be subscribed locally wherewith to start a munition factory in the form of a small Limited Liability Company under the management of well-known business men...continued here